A
s seen in most trends, vintage gowns has made a huge impact in current wedding gowns trends that designers are redesigning these retro frocks giving them a lil modern touch into it. We just adore how these designers brilliantly revisits the glamour of past and keep presenting us with a fresh collection full of beauty, verve. Not forgetting the new bright colors trending too!
So today's Stunning frocks we'd like to bring you designer Max Chaoul , whom brilliantly bringing back retro era into time and of course fancy neon into current wedding style! Let's scroll on to see more best of Max sophisticated frocks!
Here are the lovely wedding dresses from Max Chaoul 2013 bridal, "Vintage Décennies" (Decades Vintage). Above, Keira strapless with corset bodice in sequined Chantilly lace and raw edge organza ruffle skirt. Below, Grace 1960s inspired sleeveless ball gown with sequined bodice.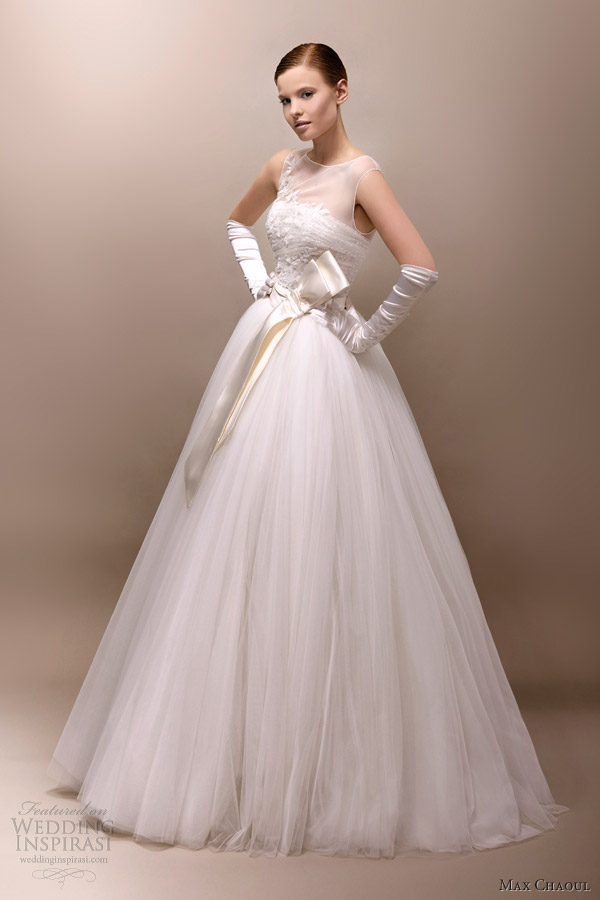 Below frock: Gloria 1930s style sleeveless V-neck gown with tiered skirt in different laces. Next, Poker Face strapless mikado silk gown with sweetheart neckline.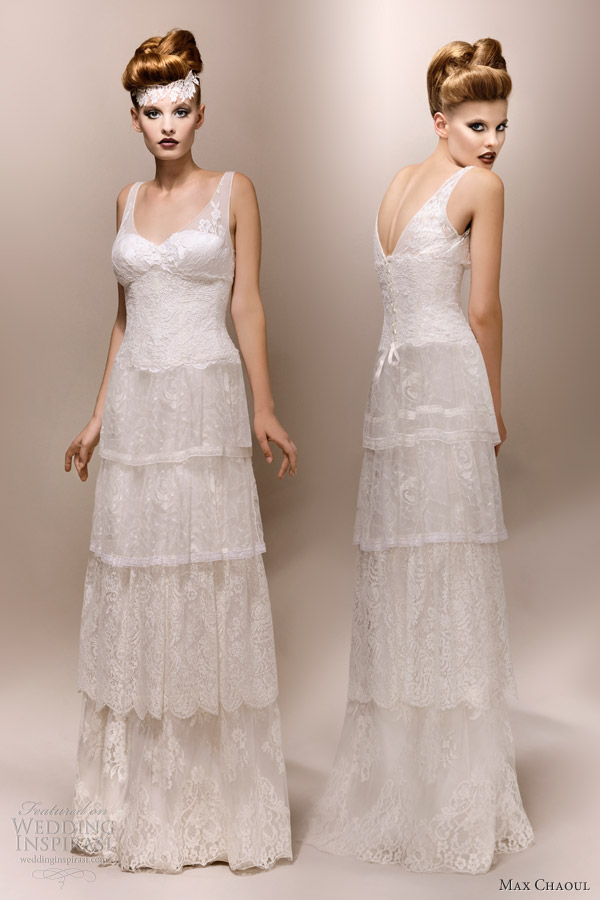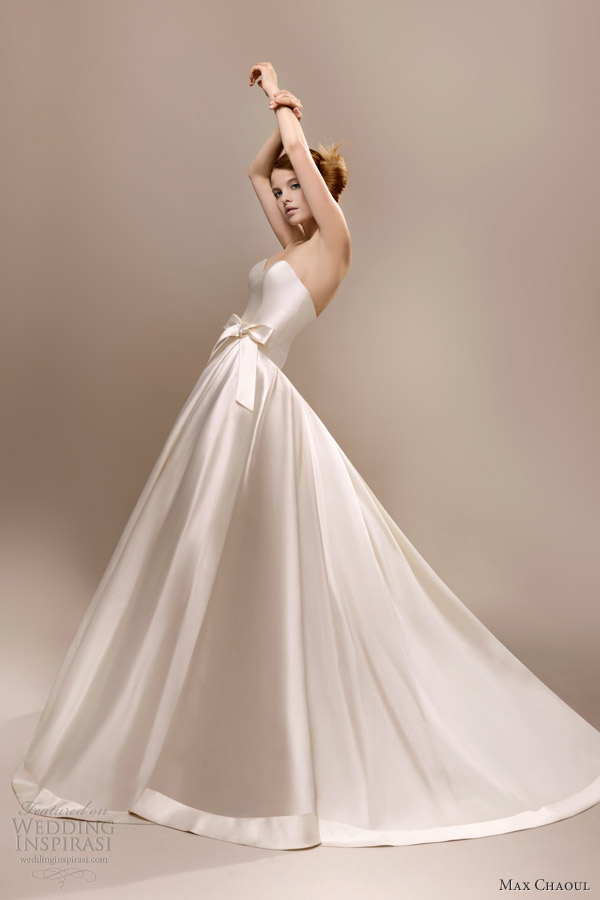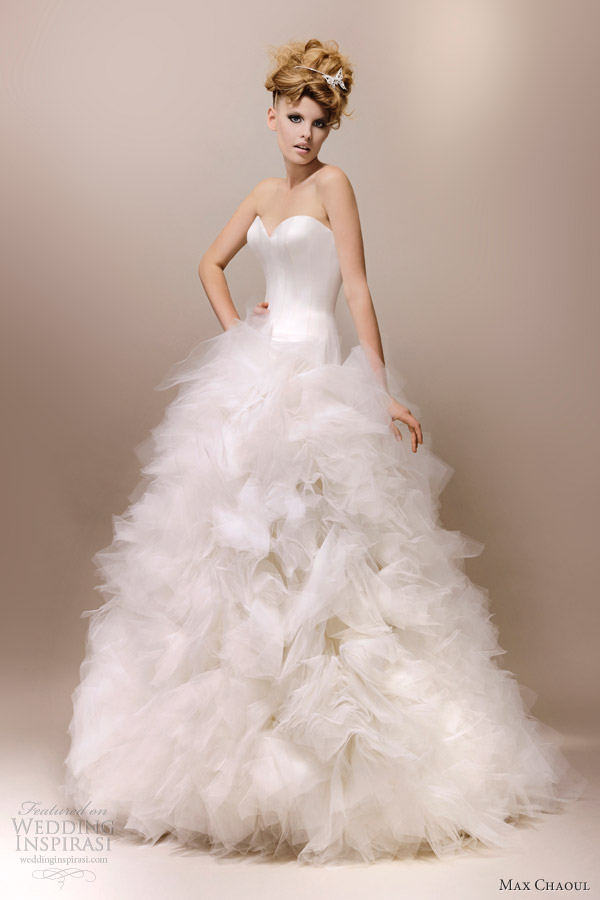 More gorgeous number. Above, Meryl strapless gown in duchesse satin with organza skirt. And below, Lana 1940s style georgette empire gown with long sleeves embroidered with crochet and lace.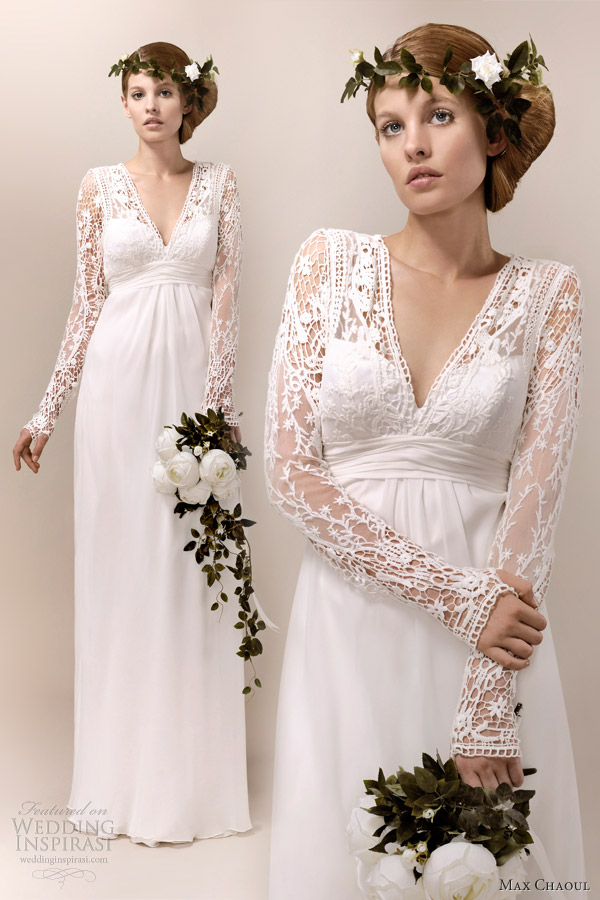 The following dress inspired by the 1930s style, is Norma wedding dress in crepe satin and lace. The dress below, strapless column gown 'Sophia' with a bodice of alternating strips of satin and sequin embroidered mesh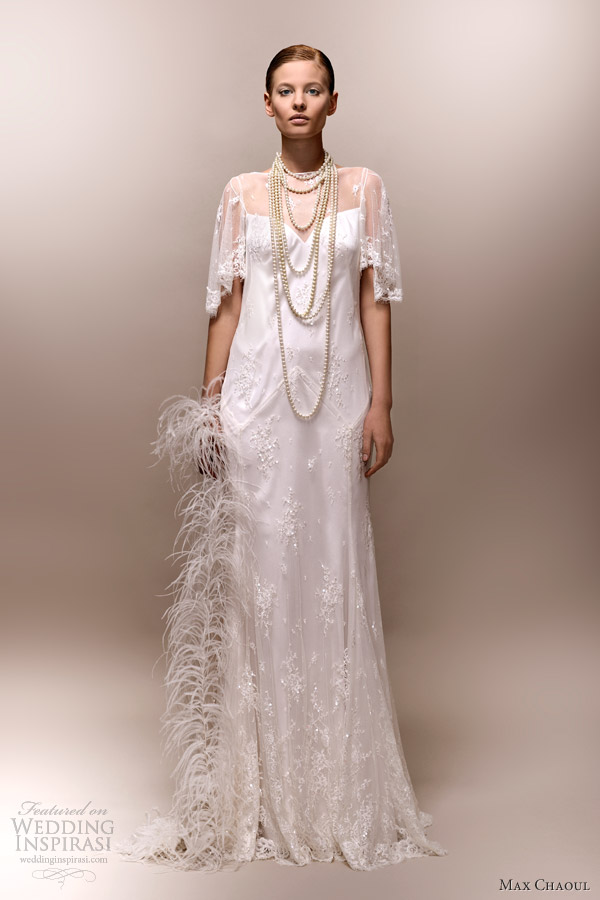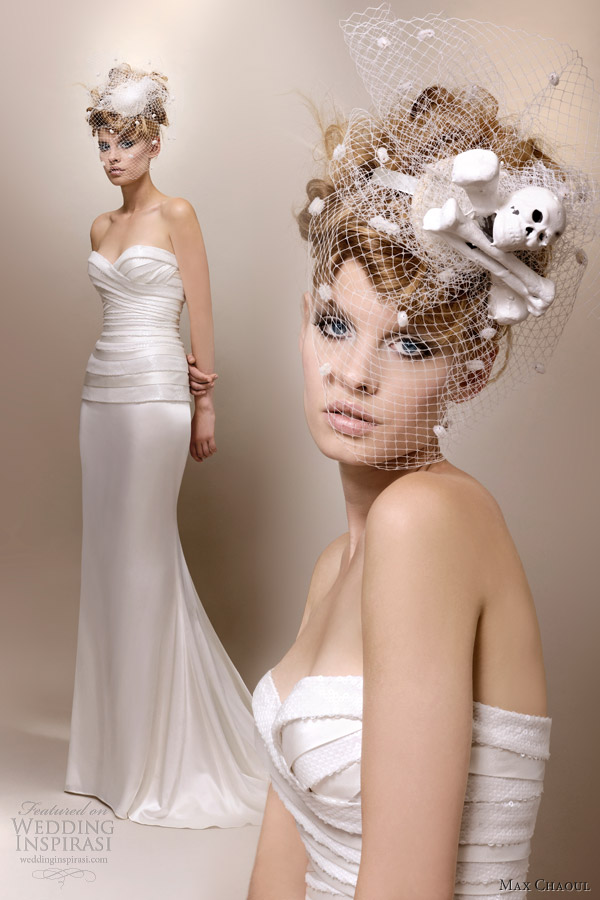 Next frock is amongst our personal favorites, draped satin strapless dress with train ' Veronica' with an over skirt of embroidered lace with sequins. For those who loves illusion neckline, Kirsten strapless gown with lace bodice featuring illusion deep split neckline.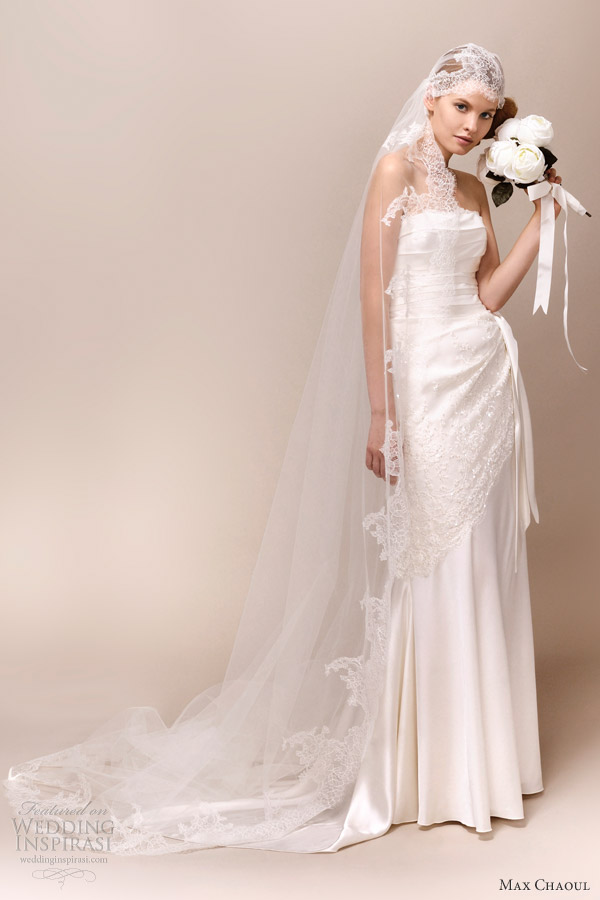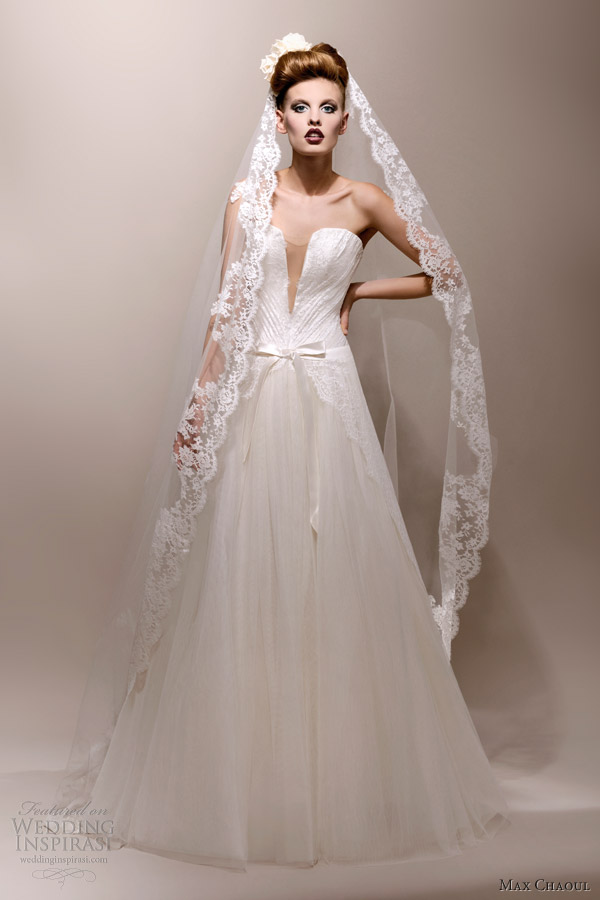 Are you a fan of tulle? there's strapless soft tulle gown 'Elizabeth' with bow adorning the dropped waist.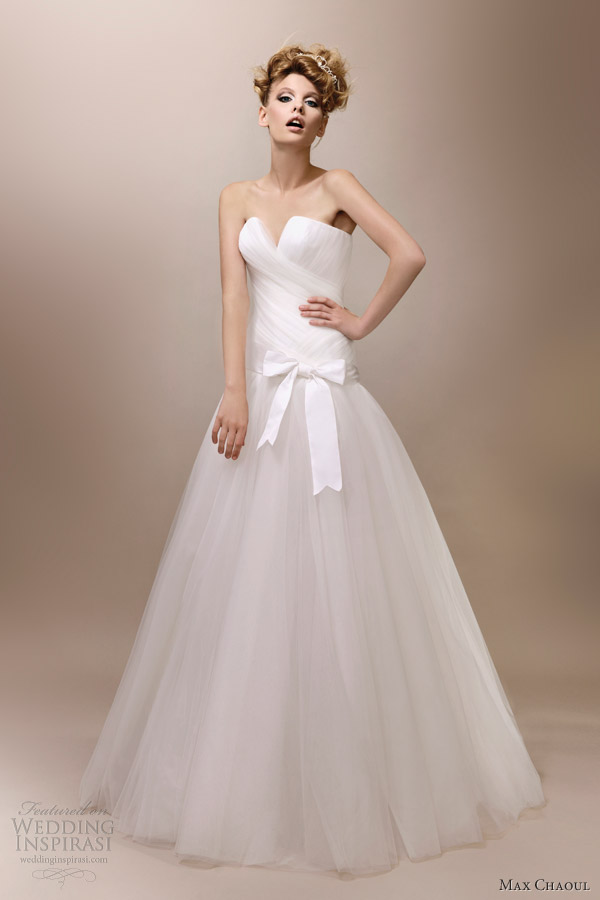 Sleeves gowns too had make a comeback, with Romy mikado silk dress with flared skirt, 3/4 sleeve lace top with heart-shaped cutout at the back.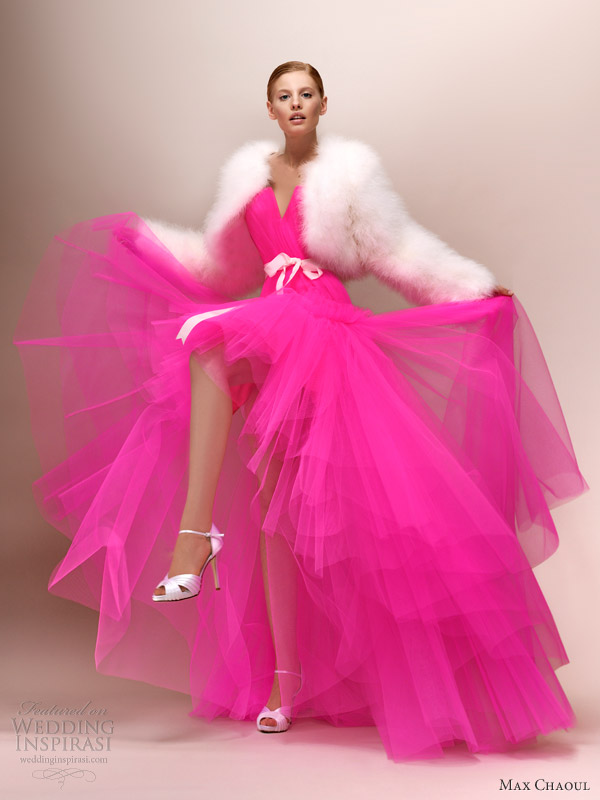 On the other hand, colors has been quite a trend lately that it become a norm (at least one reception) that brides to opt for colored gowns instead of the pure white gowns. Think hollywood celeb weddings such as Jessica Biel's watercolor pink Giambattista Valli gown or Anne Hathaway's pale pink ombre Valentino. In Asian countries and some parts of the world, it has been quite a common practice to have colored gowns for their Pre-wedding shoots or Reception occasions. But move away the norm colors, cos we're looking at the brights brights hues which is the newcomer for weddings!! Max Chaoul has pushed the envelope further with the introduction of neon bright wedding gowns. Above, Katy neon pink wedding dress with high to low skirt whereas below, Adriana strapless gown with skirt of fluorescent trimmed pleated ruffles.
A lil bit of color too makes a difference! Brigitte short strapless dress with contrasting dayglo-toned sash. Below 2 contrast of Faye strapless gown with weaved bodice, in bright orange and ivory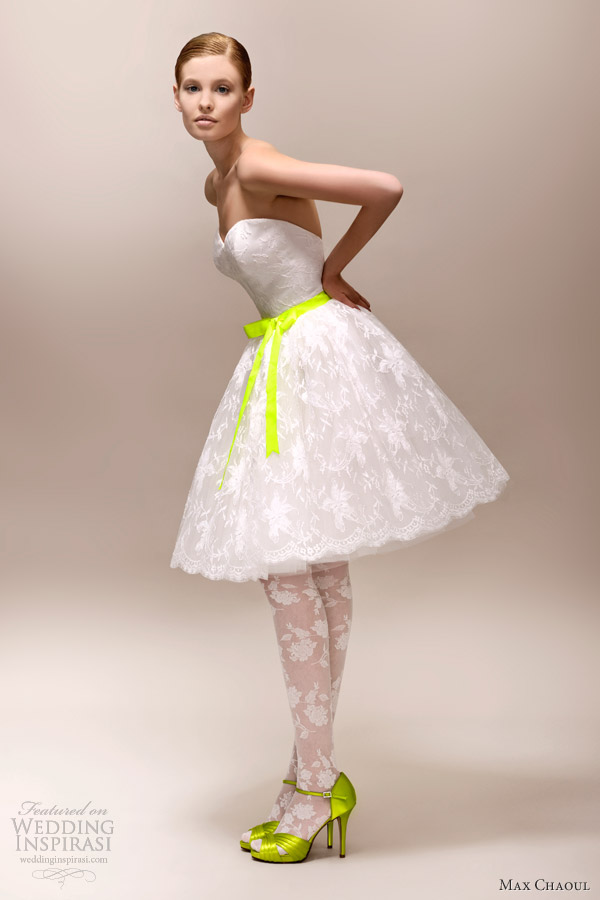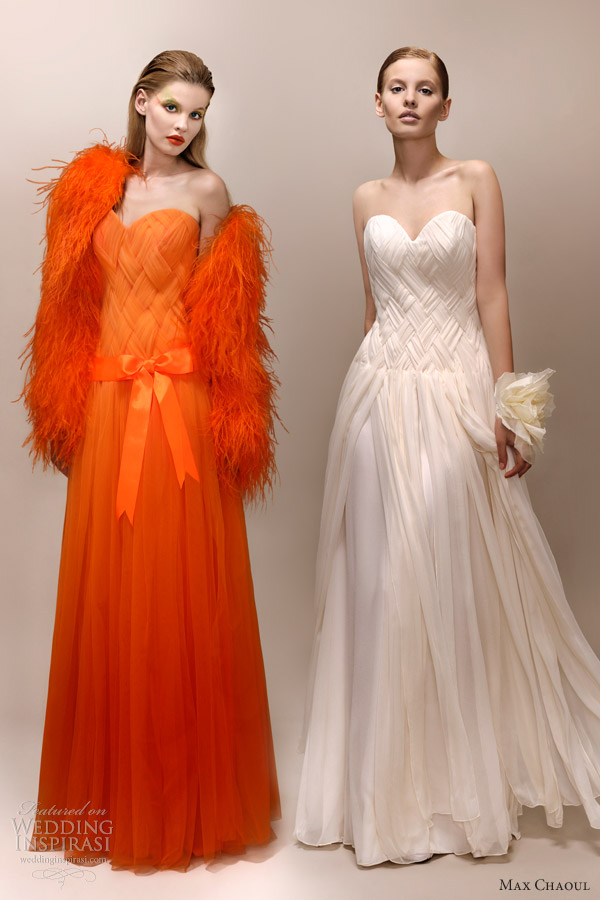 Below: Anna strapless tulle gown in a highlighter pen shade of fluorescent yellow-green.
Moderated by Inspirasi SA via Weding Inspirasi via Max Chaoul.