H

i sweeties... we just cant resist sharing you these absolutely stunning bridal hair accessories from Olivia Headpieces 2013 collection!! They're soooo perfect that the perfect finishing touch just brings out the glam factor of any bride's wedding gown up a notch or simply adding up a bit of vintage glitz to a bride's overall look. Above, Kate headband featuring crystal beaded appliqué embellished with dazzling pearl brooches on a soft tulle netting finished with ribbon ties (brides this can also be worn as a belt). Another below, gorgeous Adabelle satin ribbon wrapped headband with silk and velvet sculptural blossoms crafted into a Russian netting (also available without the veil or mounted on a comb).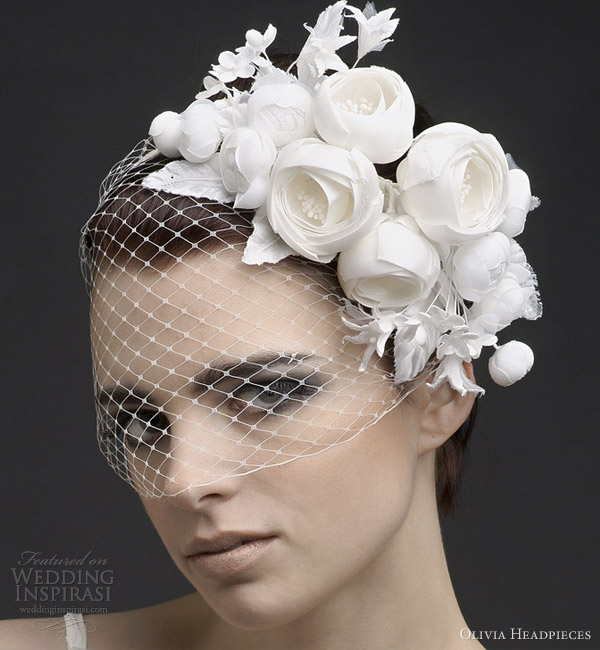 Olivia Headpieces was founded on 2011 in Vancouver, Canada by designer Sandra Morales. Named after her grandmother, a renowned dressmaker and in the spirit of its namesake, Olivia has a sharp focus on detail and craftsmanship; where each headpiece is handmade in Canada from carefully selected materials from around the world.
Below, Adora golden hair comb with fresh water pearls, dyed peacock feathers and Russian netting.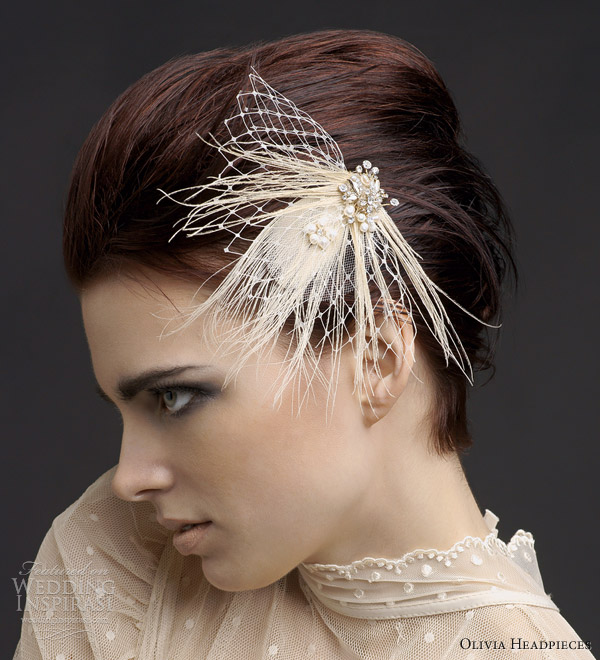 The following, Adria beaded floral applique encrusted with fresh water pearls brooches on a thin satin ribbon wrapped headband.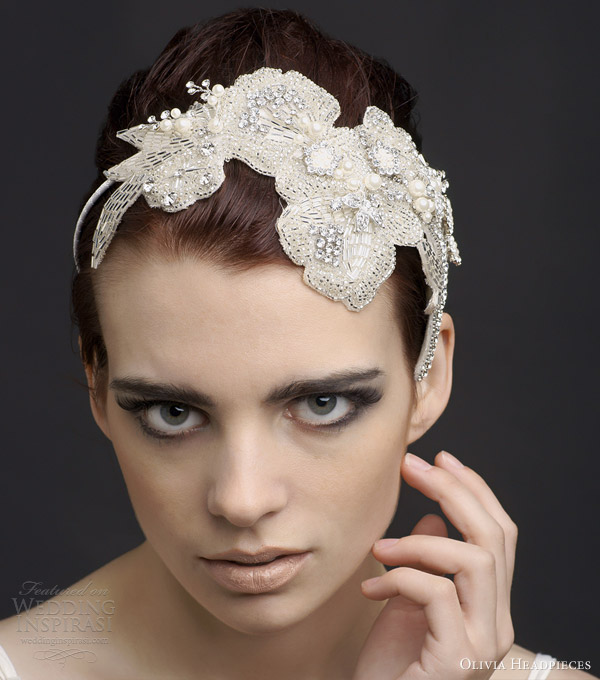 Agatha, a 1920s vintage Hollywood inspired bridal halo/headband. This pretty headpiece features a strand or Swarovski crystals attached to shimmering fresh water pearls brooch with crystal strings. Delicate yet high on impact!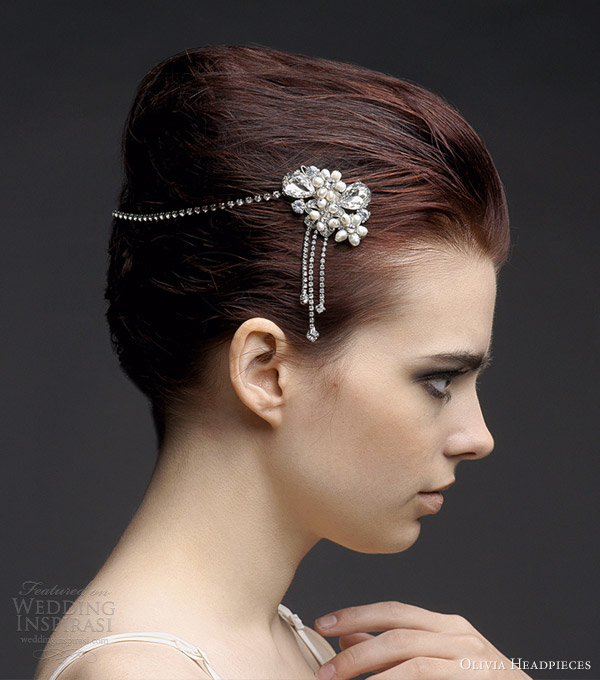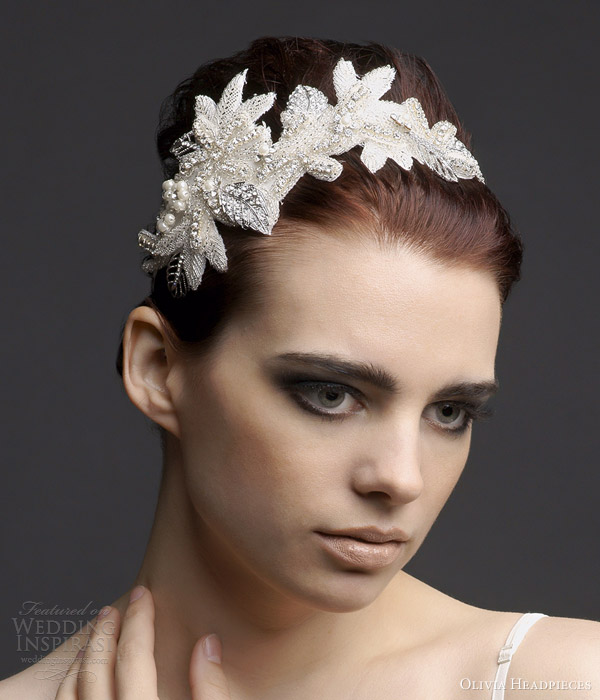 More beautiful statement pieces from Olivia Headpieces. Above, Aliz crystal beaded silver headdress mounted on a silver headband; below, Bridget headband/belt featuring hand beaded appliqué adorned with Swarovski crystals, fresh water pearls and a dazzling pearl brooch.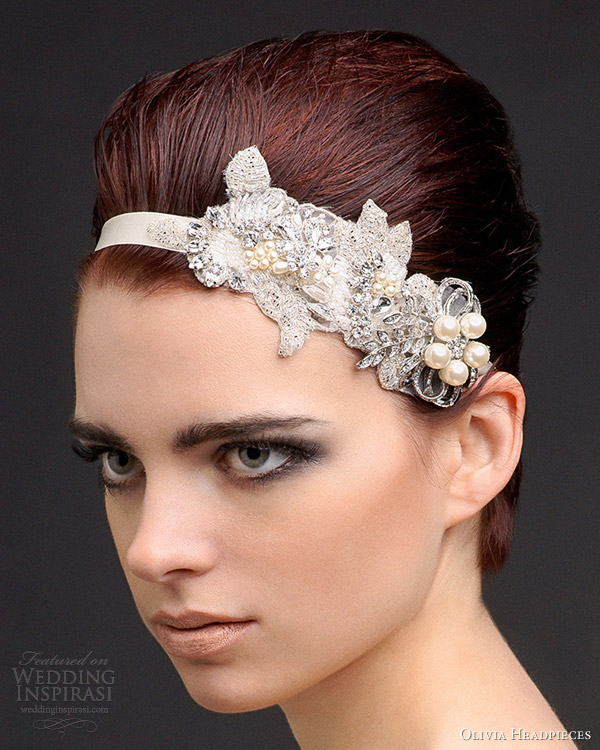 Abella comb featuring a posy of three camellia blossoms.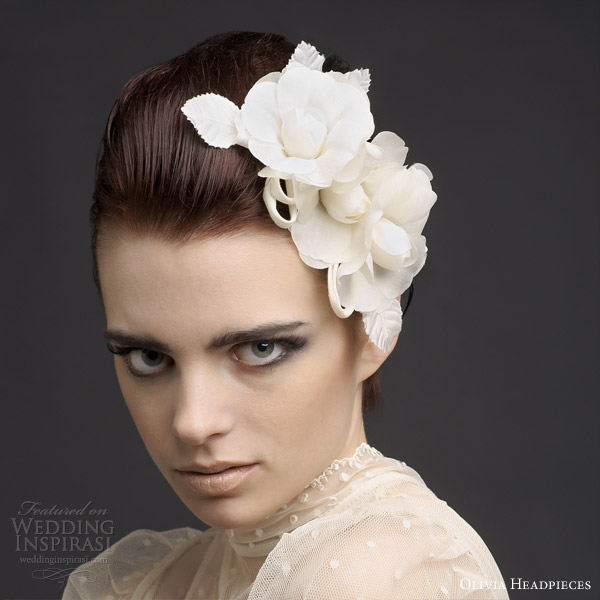 Here's a bit of fun! Anette crystal beaded Chantilly lace panda ears headband. Below,
Abbey silk camelia blossom mounted on a golden hair comb.
Abriana featuring a unique lace flower covered in soft silk organza.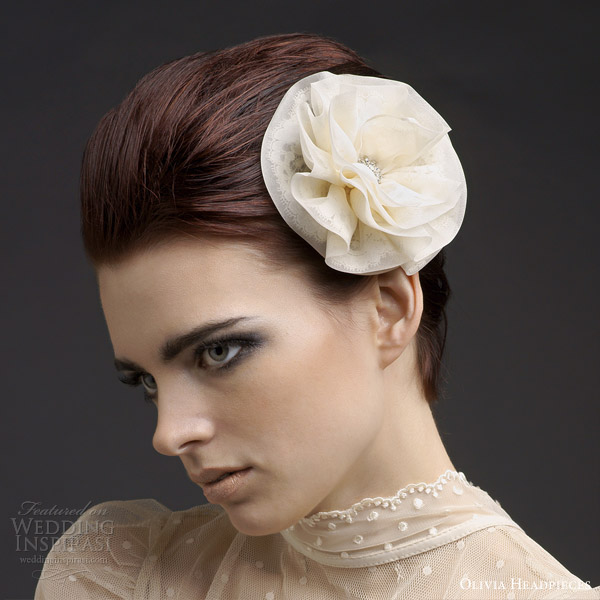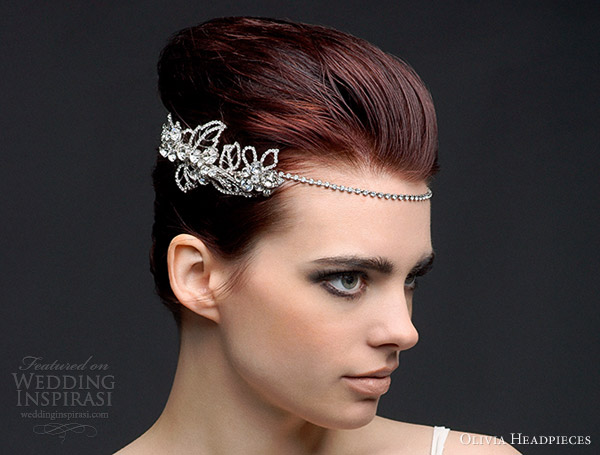 Above,
Adele, a Roaring '20s inspired headband/halo. Features a strand of clear crystals placed on a gunmetal setting attached to an antique crystal flowers comb. Next,
Alessa antique silver bridal hair comb with pearls and crystals brooches.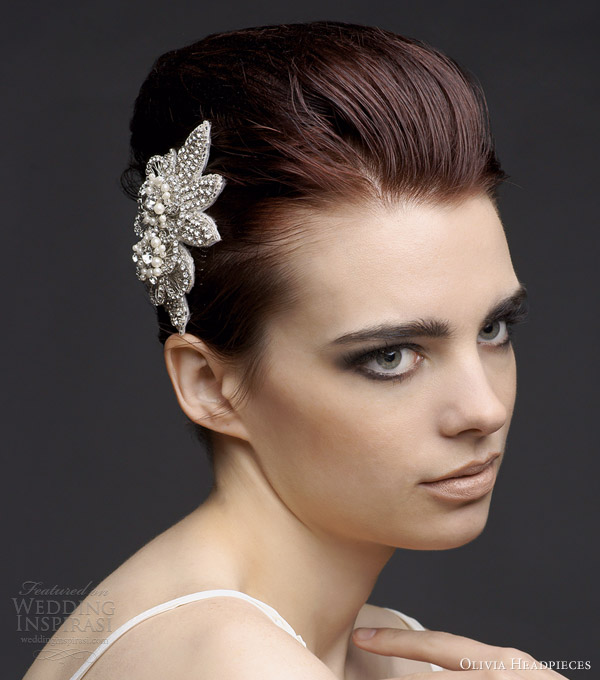 Alonza crystals and fresh water pearls beaded bridal headdress with russian netting attached to a metal comb.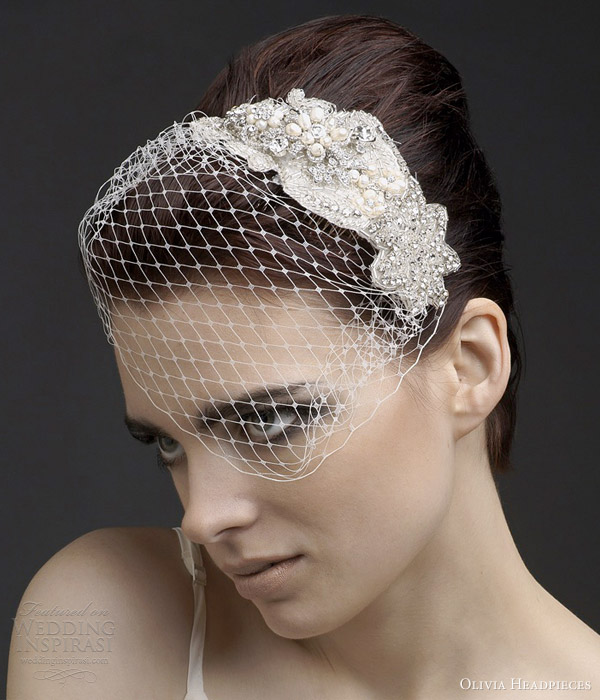 Antoinette satin ribbon wrapped headband with handmade silver blossoms and clusters of sparkling crystals.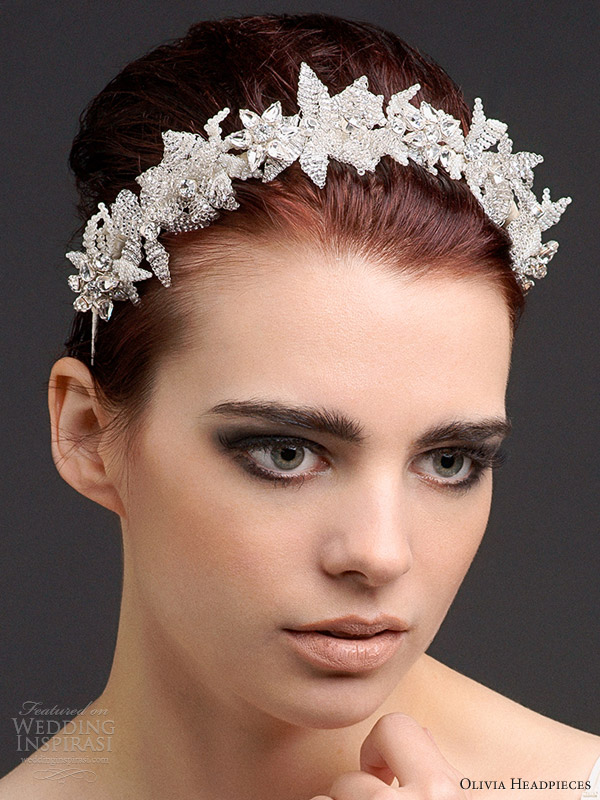 Top to bottom: Beckett crystal headwrap, Clare brooch with crystal drape, Gabrielle scalloped headband and Collette antique silver deco ornament attached to skinny faux suede ties with tassels by delicate crystal strands.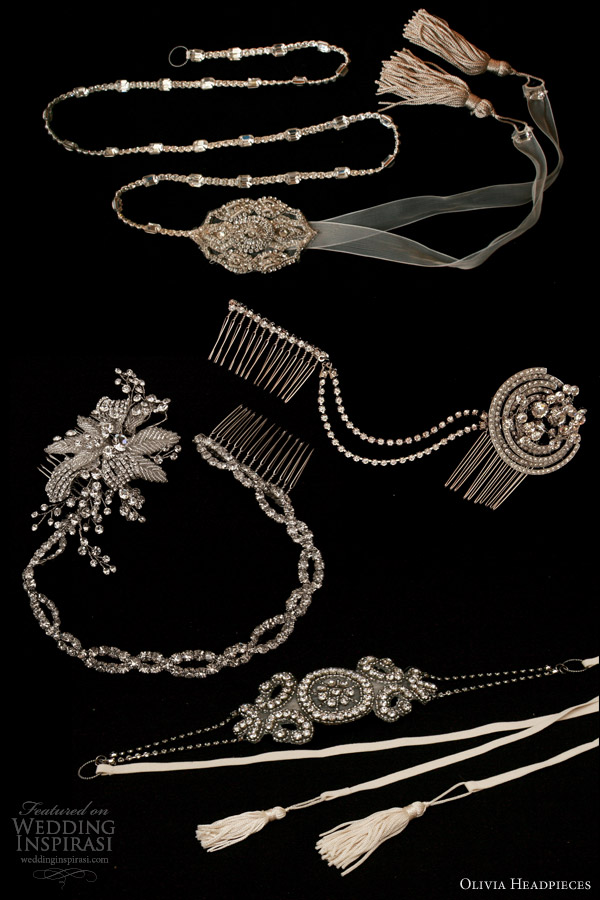 Olivia also sells bridal sashes and belts like this beautiful one called, Sierra, which features hundreds of crystals and pearls lavishly hand beaded on a lace appliqué attached to a silk organza belt and silk satin ribbon.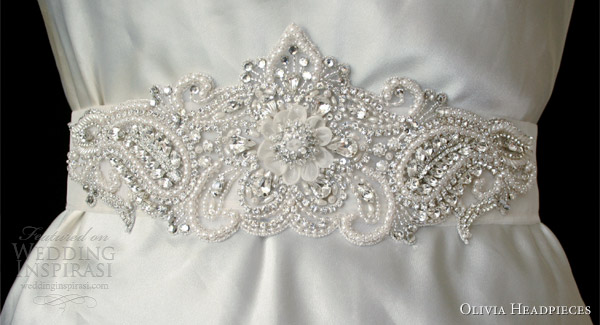 Moderated by Inspirasi SA via Wedding Inspirasi. Source photos courtesy of Olivia Headpieces Olivia Headpieces.