H
ello Sweeties! What do we have in common for Mondays?.. the case of the blues!! So loves, let's chill da blues by enjoying these gorgeous dresses from Vera Wang Fall 2013 bridal collection. They're super romantic and full of whimsical touch. We reckon Ms Wang was being in touch with her feminine meets glam during the designing state of these wonderfulness!!
After bold colored gowns for the past 2 seasons (black & red), this time Vera are back to white. And she couldnt have done awesome with these dreamy collection!! We loooove extra flowy & voluminous ball gowns... so much elegance! Whether in perfect bodice or form-fitting mermaid dresses which centers around the charming allure of lace. Sigh... love love... So, Romantica brides; here' some inspiration for you! Above, a strapless ball gown with ribbon embroidered bodice and silk organza floating flange skirt accented by lace applique detail at hem. Below dress is stretch mikado mermaid gown with floating tulip. Perfected with rose lace overlay accented by table pleated organza rosette skirt.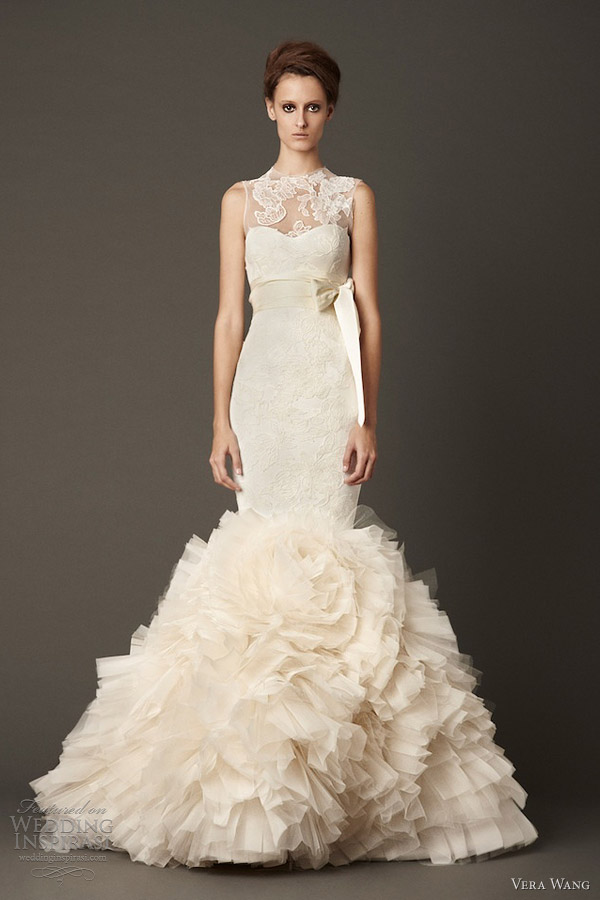 This one below emphasise more on english lace. A strapless floating tulip and rose lace ball gown with open back and classic corset detailing. The next gown below is a one shoulder drop waist ball gown inspired by classic lingerie. We love how lovely it features hand pieced organza petal details together with floating tulip and rose lace accent.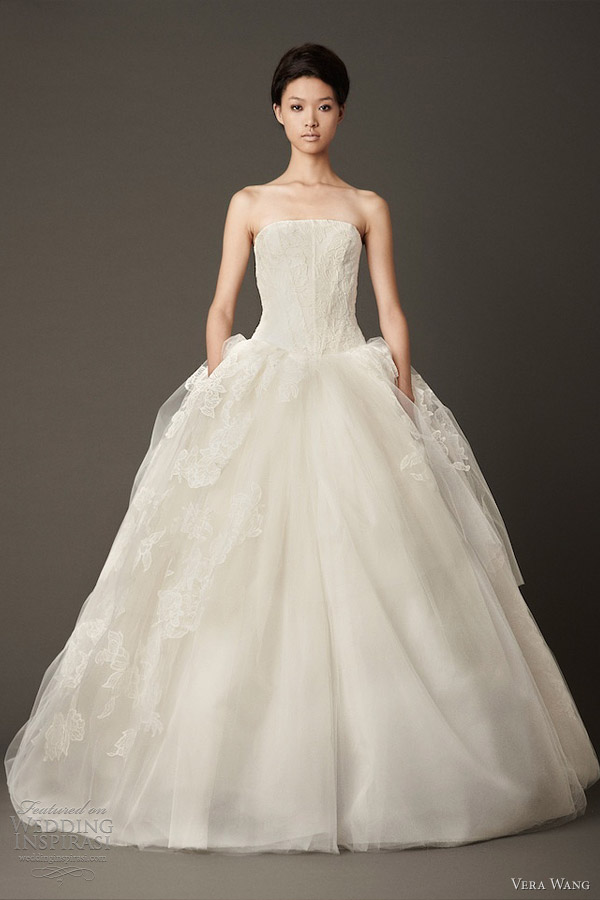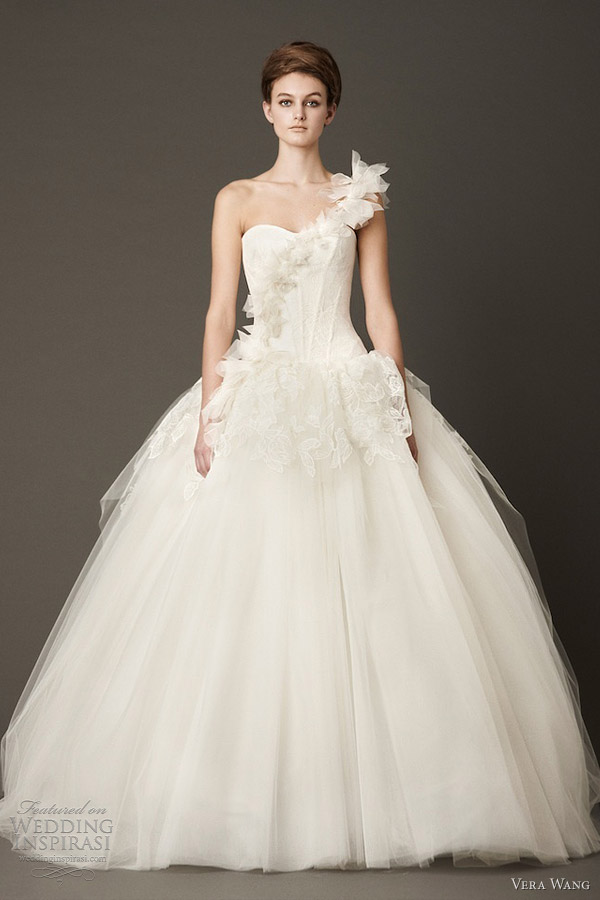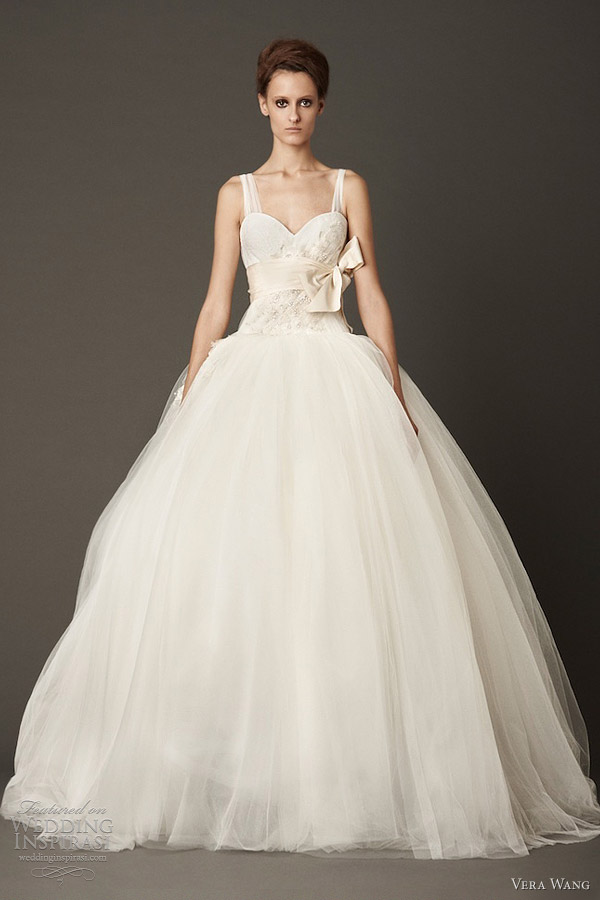 They called this entire 2013 Fall Bridal Collection a representation of laces in depth. Spectacular, it reflects more exploration of laces all handwrought, pieced, appliquèd and tossed onto an assortment­­ of light, airy confections with a casual nonchalance. As usual Vera has taken classicism and ornamentation towards the next level; by making her designs way beyond than others; these designs celebrates the ultra femininity and romance all in one collection " We love how extra detail she gets this time. Above, the gown of draped tulle and Chantilly lace bodice ball gown with crystal and organza embroidery details. More flowy expected below, a strapless modified ball gown with micro flange bodice, with silk organza and mixed lace wave flange skirt and blossoming hand rolled organza petal corsage at waist.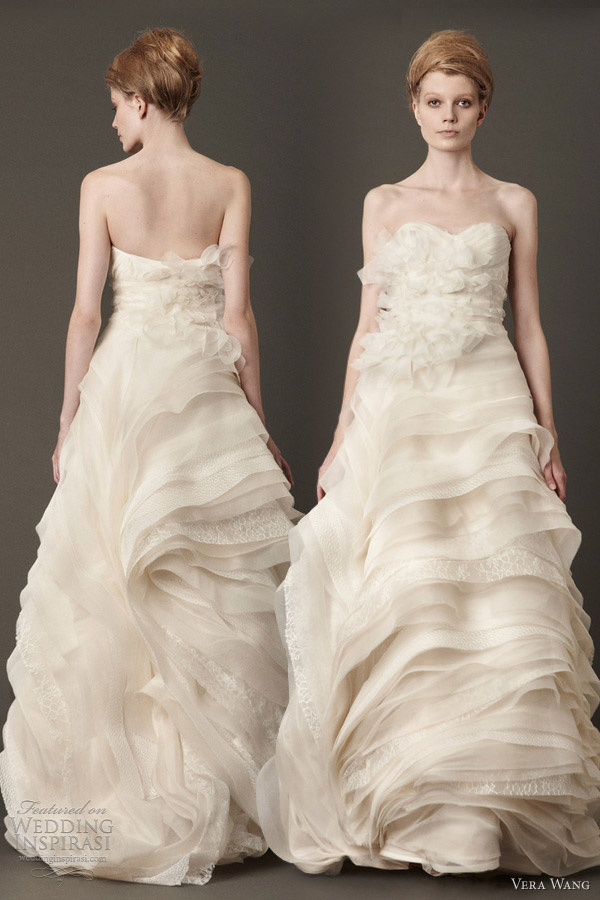 The gowns below further represented a touch of the 30s era chanelled into the current bride; making the designs as brilliantly done as ever on this 21st century. Now we can say gowns have neck brace too! Below, a tulip Chantilly lace mermaid gown with hand pieced circular flange train, mum garden hemline and silk organza mum and tulle corsage at neck.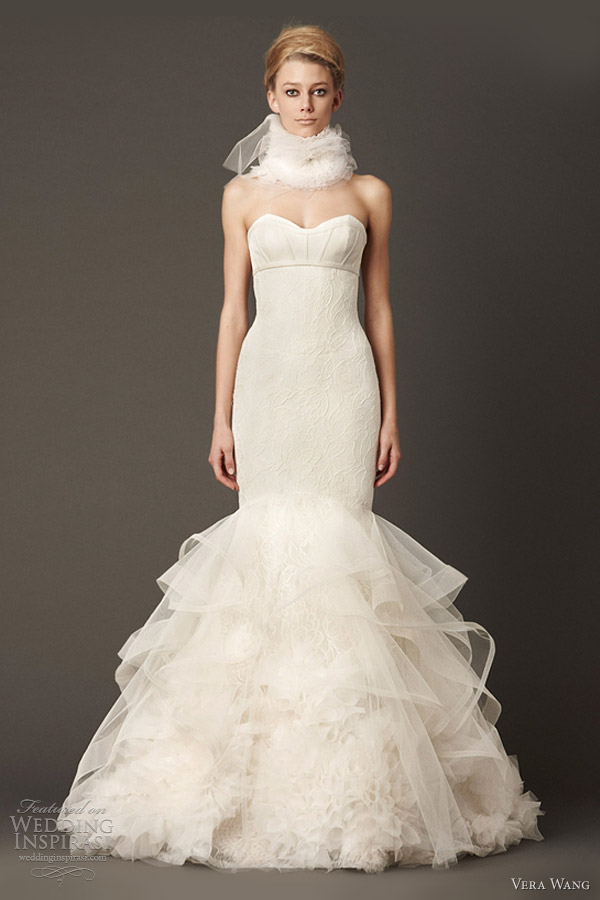 More on neck collars wonders! A strapless modified ball gown with ribbon embroidered bodice, together sown in textured organza skirt over honeycomb crinoline and silk organza hand rolled petal collar at the neck. The following dress is amongst our fave! Beauitful floating corded leaf and embroidered circular lace of strapless mermaid gown, sown with bias organza and lace flange detail accented by crystal and pearl cluster embroidery at hip. Basketweave silk gazaar corselette under bust.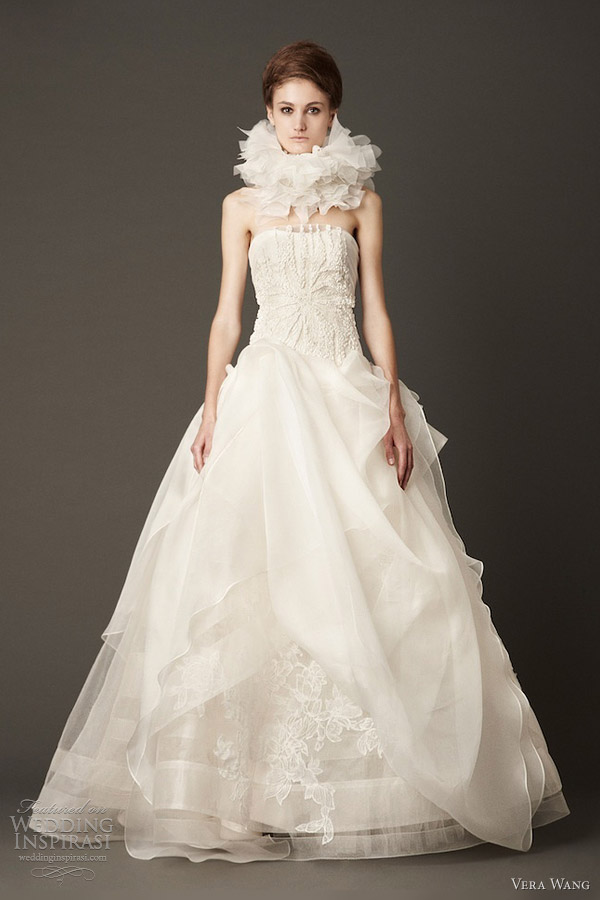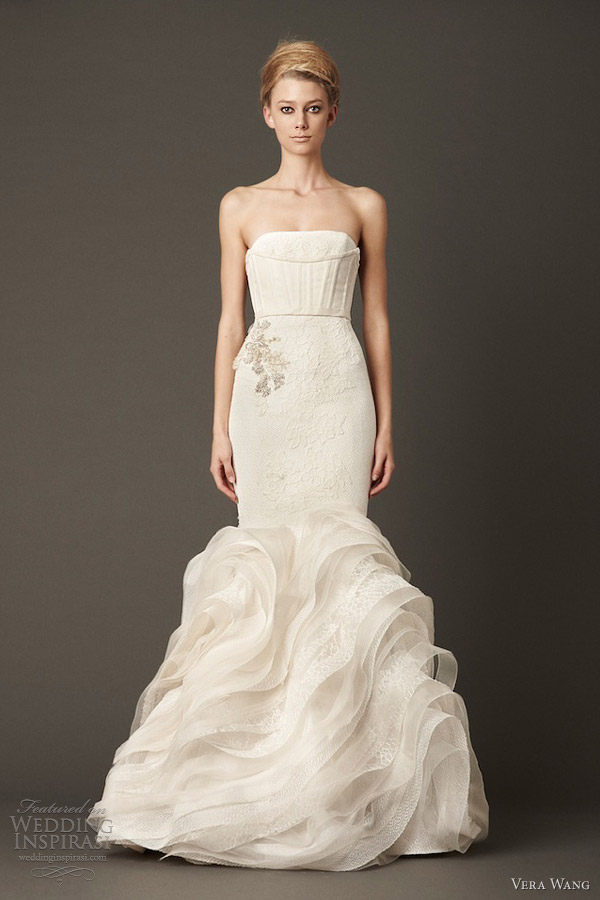 The dress below is another unique piece - a Silk zibeline corselette at waist. With strapless drop waist modified ball gown with corded leaf lace bodice and swirling bias cut table pleat flange skirt.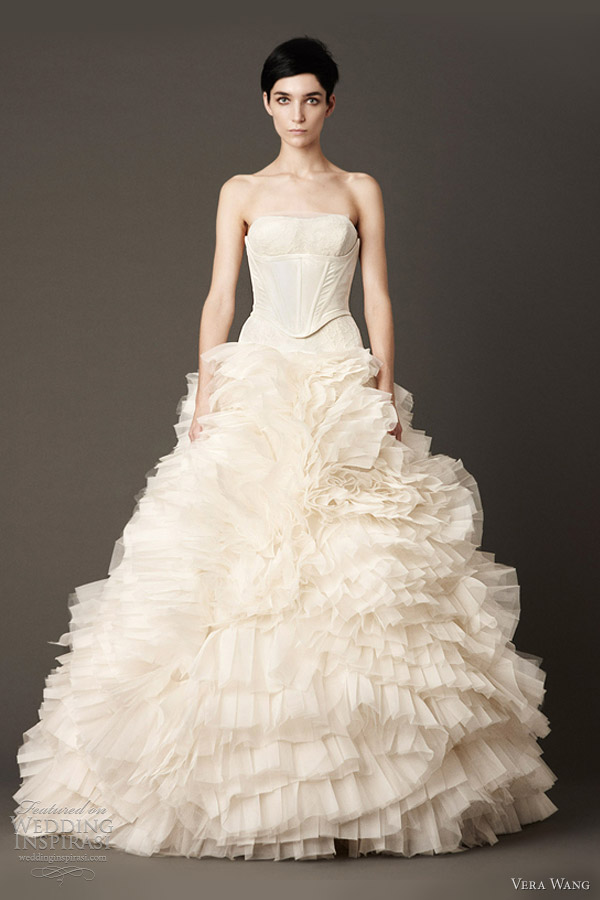 More Neck collars coming up! Another beauty od floating Chantilly lace ball gown with bias organza and tulle wave flange detail. Basketweave gazaar bralette with classic lingerie details. Next tulle shrug made its way lovely too, below a strapless mermaid floating lace gown over web lace with horsehair and tulle shrug.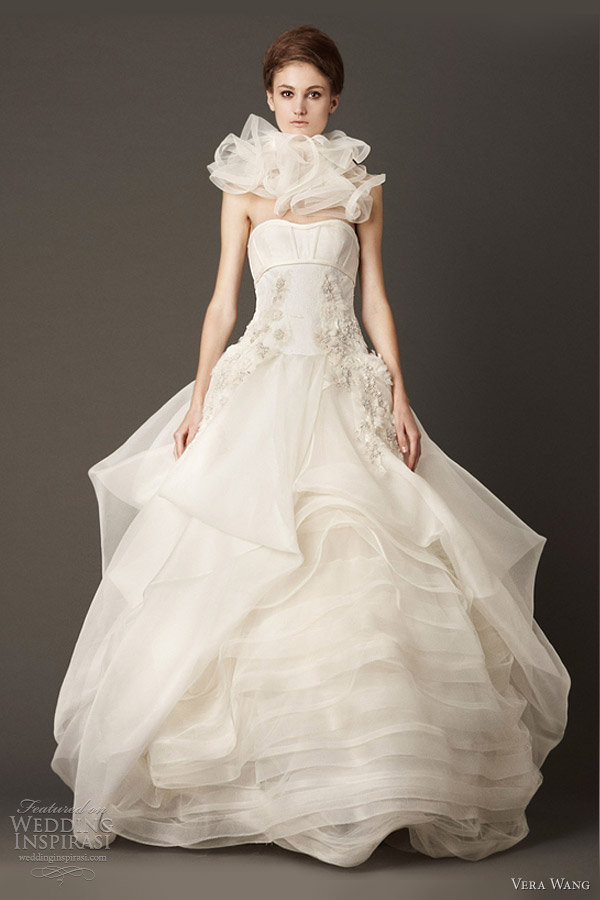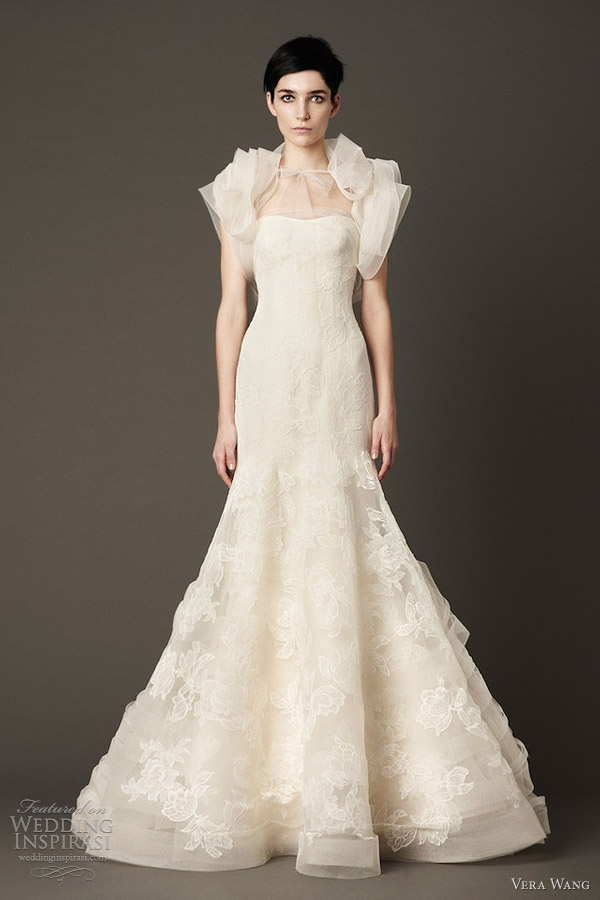 Corsage hipster below; a trapless corded bodice ball gown with lace and organza wave flange skirt and floral corsage at hip. The other following would be strapless draped tulle bodice ball gown with crystal embroidery accented by floating pleated detail at the hip.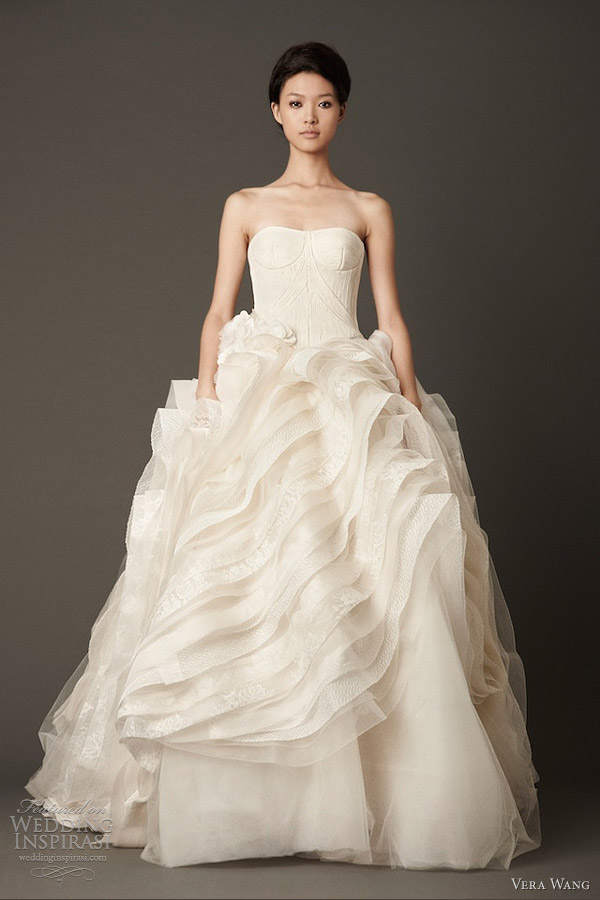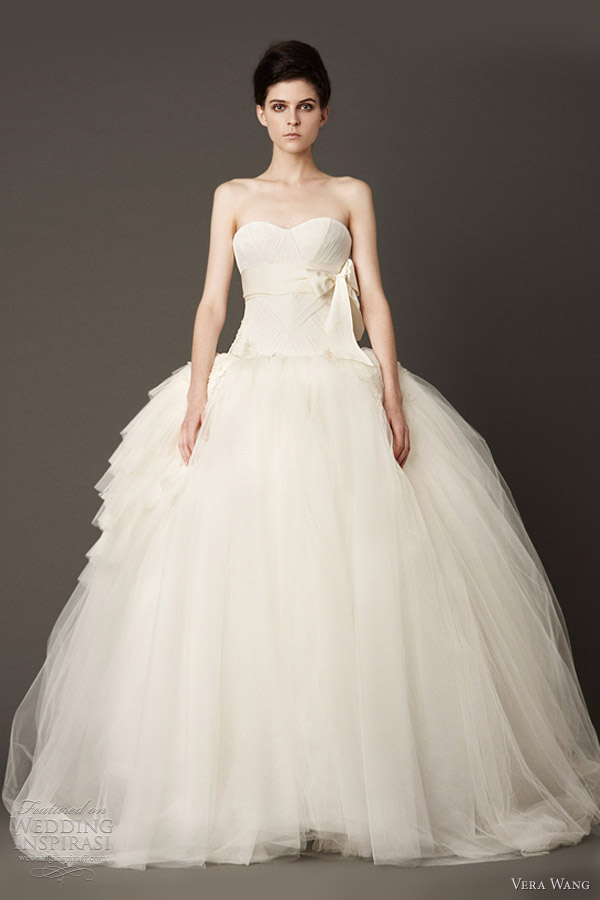 This one; perfect for vintage bride; we loove the English tulle and horsehair ruffled collar at neck! A strapless modified ball gown with Chantilly lace bodice accented by organza petal and pearl embroidery with hand draped textured organza skirt over English tulle; wave flange detail. .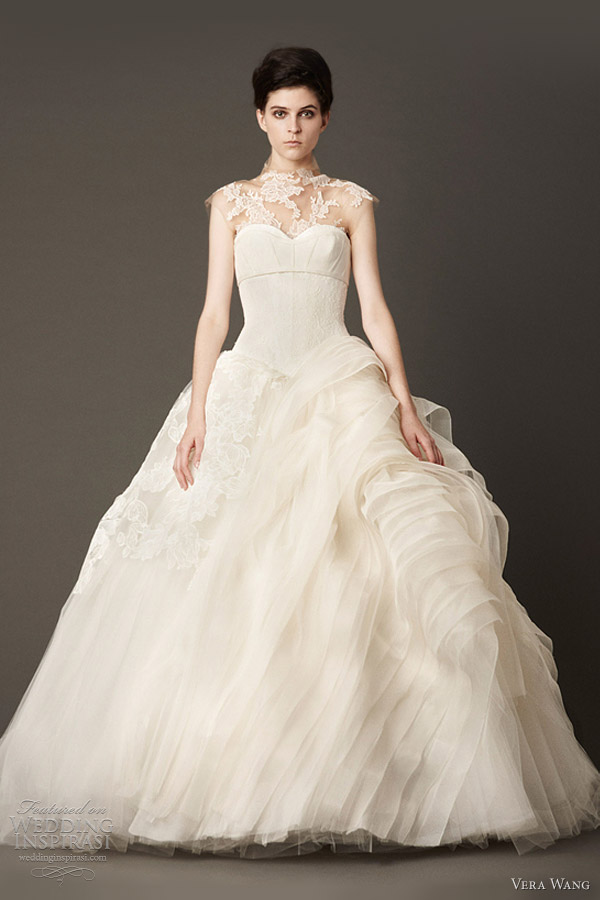 Moderated by Inspirasi SA source Vera Wang. via Wedding Inspirasi