H

ello gorgeous! Its another sunny weekend wohooo!! Beautiful weather outside- let's come out & play! Since we in the happy mood, we'd like feature these beautiful designed pieces from Marchesa Resort 2013 collection. Sooooo melodramatic and stunning.. we can't stop staring at em'! Eventhough with so many wedding-worthy gowns around, we know you brides are gona go drooooooling thinking of this bridal collection! Moreover Marchesa is always innovating their designs, always creating updated versions from their previous bridal collections. We love love how they literally live for romance and allure, bringing sophisticated brides into reality. The above ruffled romantic mermaid gown with draped off-shoulder sleeves; soft and flowy... Below, another romantic strapless blush gown with rosettes decorating the bust and side of gown. Who doesnt love rosettes!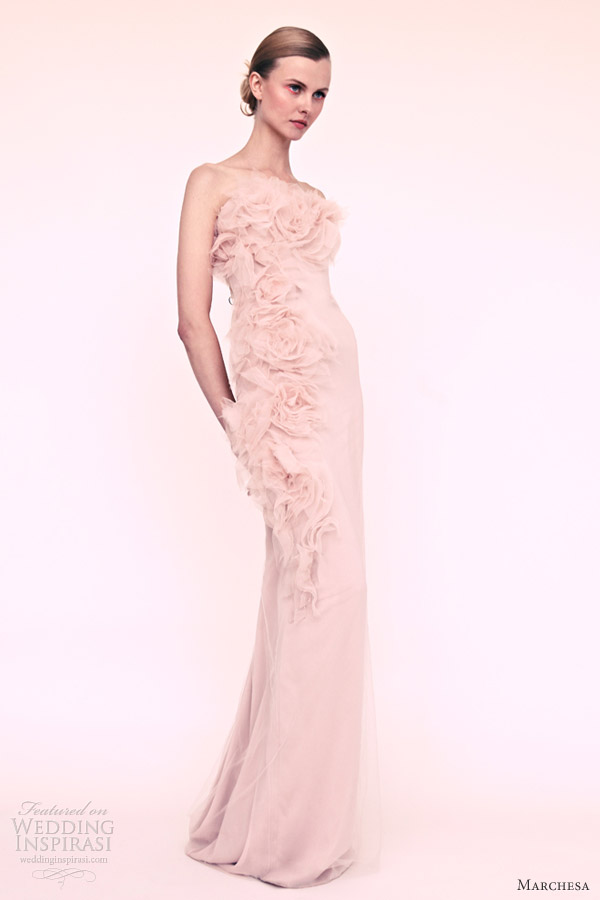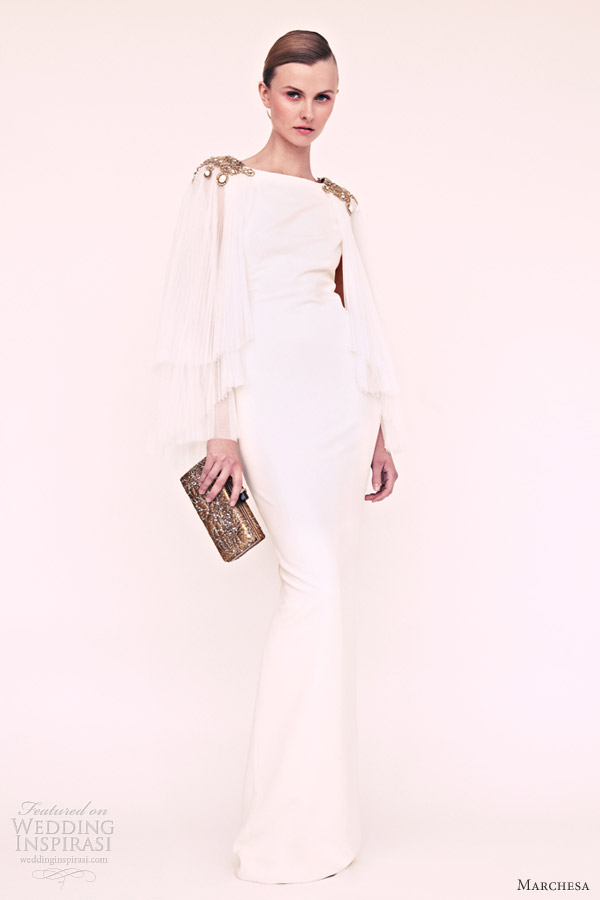 This is one fancy dinner wedding dresswe simply adoooore! Embellished long sleeve dove grey sheath gown.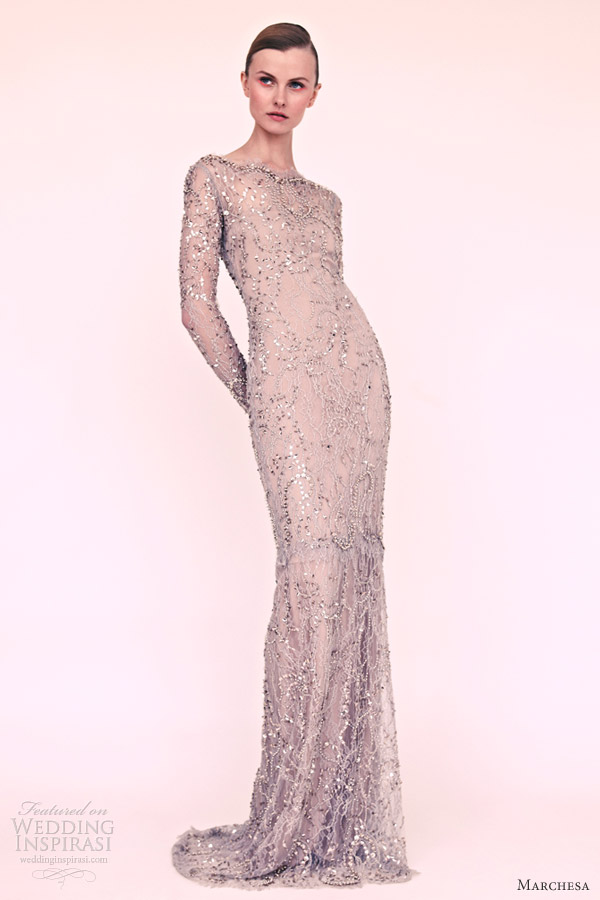 Sheer's sweetheart! Above two strapless gowns with sheer tulle overlay — one with the sweetheart neckline which on the left, an updated version of a draped chiffon wedding dress from their

Spring 2010 bridal collection; the one on the right features a black and white laser cut lace underlay. Below, amongst hottest trend of weddings! peplum! Its a sleeveless V-neck peplum gown with heavily decorated waist.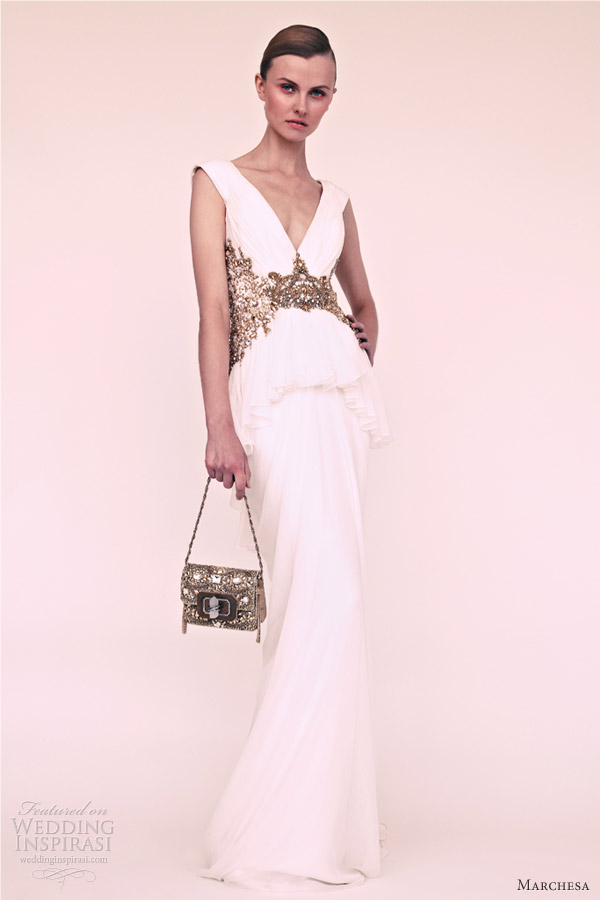 More gowns below more inspired by 30s classic, a white column gown with illusion neckline embellished with crystals and feathers.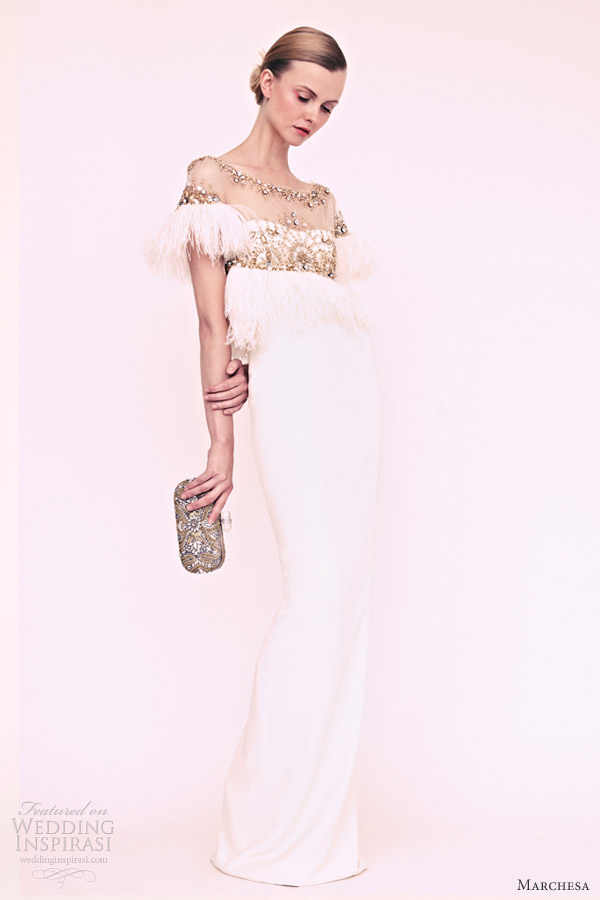 A modern bride from the past; these short white dresses emphasies more feather trims. The one on the left is a knee-length version of the dress above.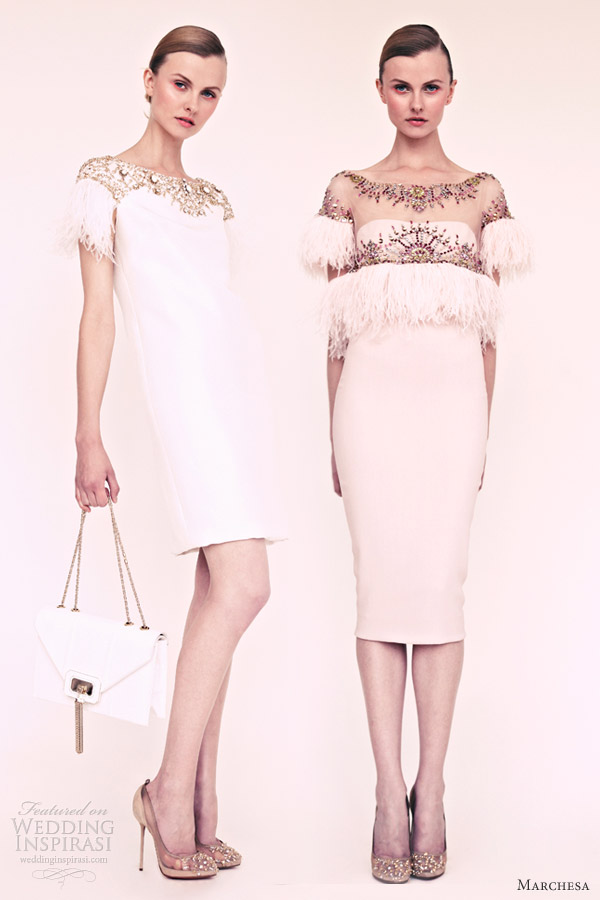 The dresses below are amongst fan's favorites! Featuring rose inspired folds; we adore these strapless short dresses in teal and fuschia.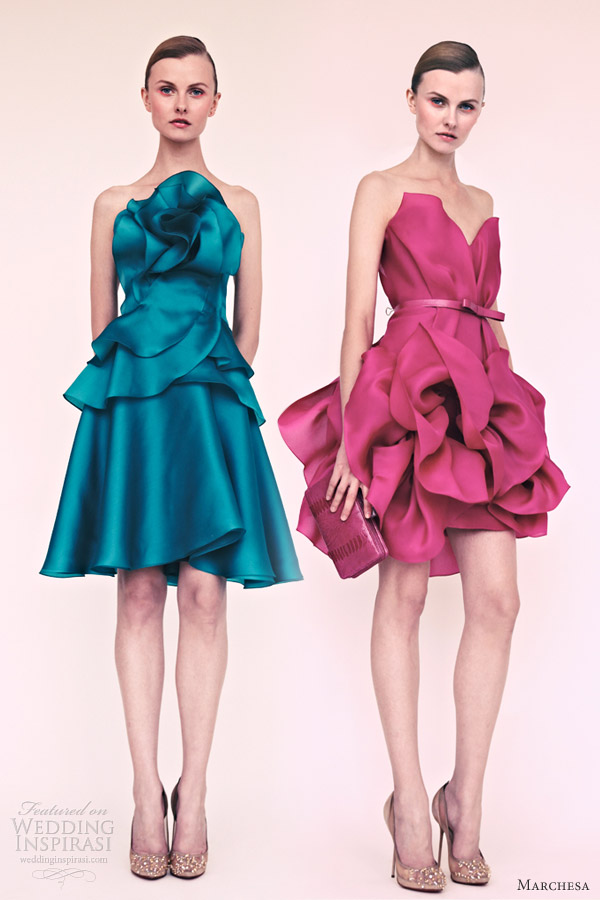 And last but not least, the full-length version with column skirt. Vavavvavooom Lovely! Can you Imagine this in ivory or cream?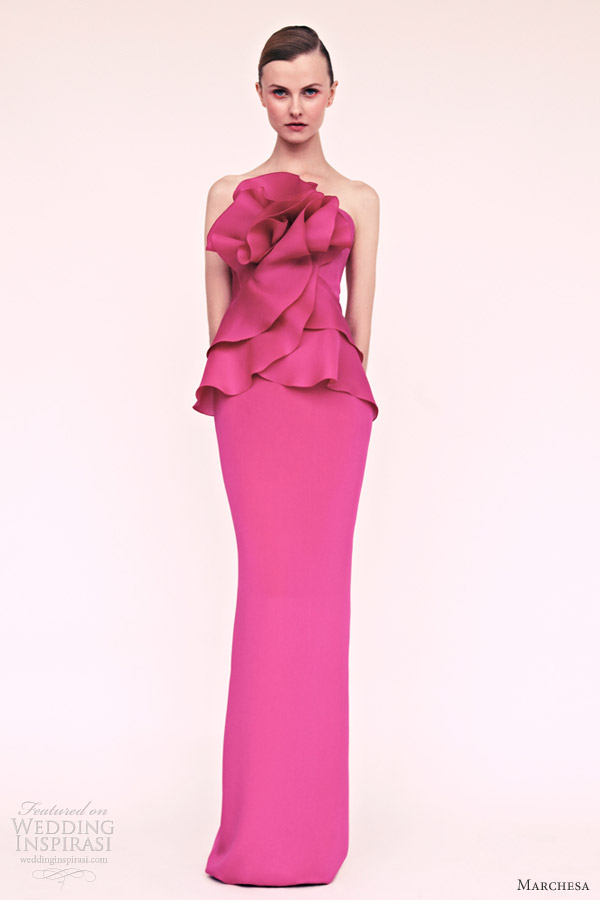 Another one with romantic laces, which was the color version from Marchesa
Bridal Spring 2013

collection, which is p
astel lace dress with asymmetric hemline.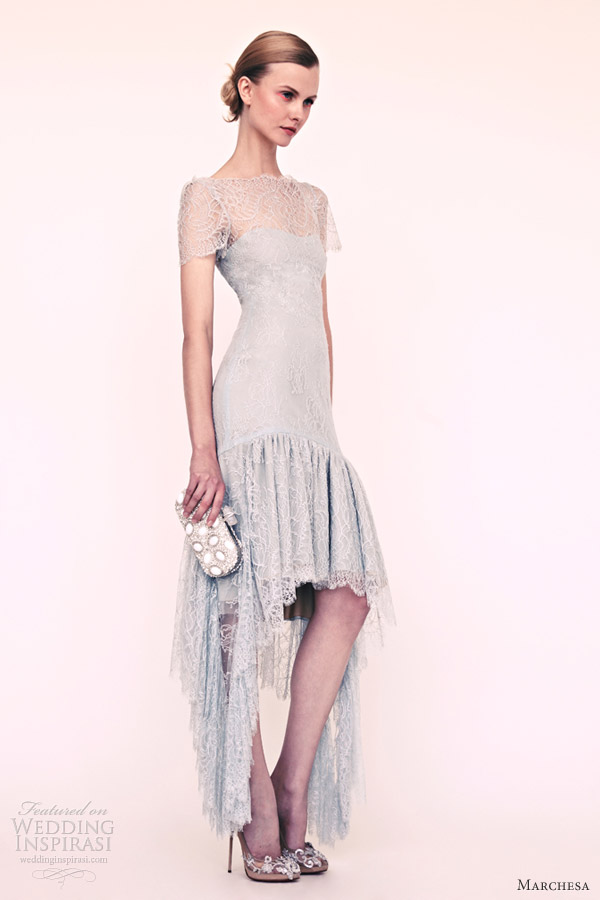 We love love how this
Marchesa Spring 2013 bridal collection comes to a more vintage-inspired flair!. Here's the
off-white version of the tiered lace wedding gown.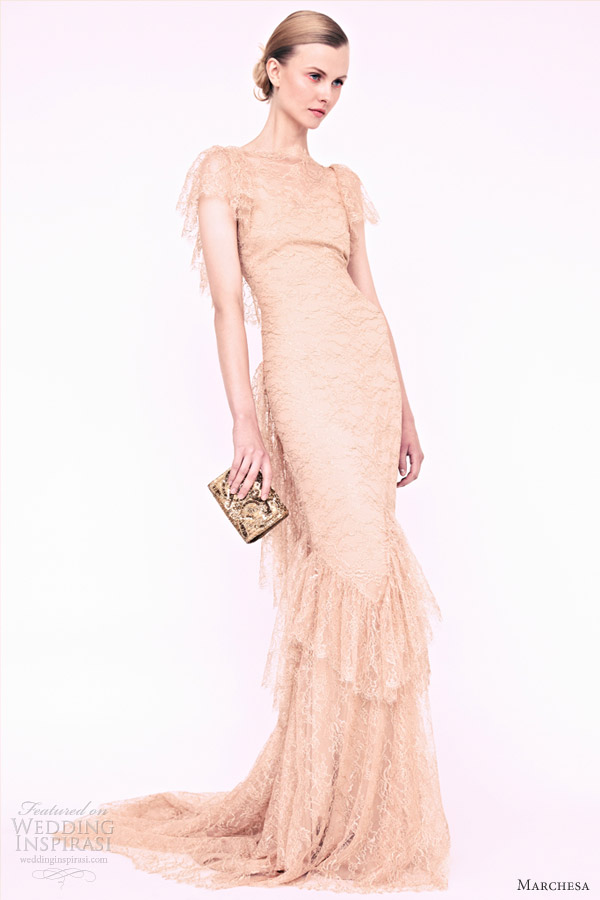 These next 2 gowns which features corded flower patterns which also can be perfect for raya designs too! Black and blue column gowns with sheer overlay.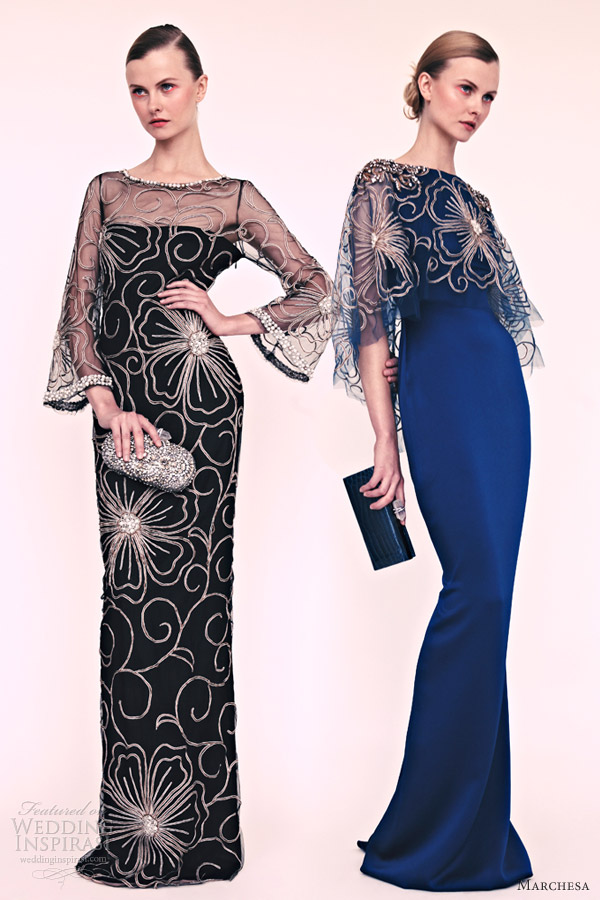 And nevertheless sheer kaftan which is another unique wedding dress design. Although in contrary they're quite popular wedding dress design in our country (South east Asia), still Marchesa presented this one with brilliant - with embellished waist and shoulder details.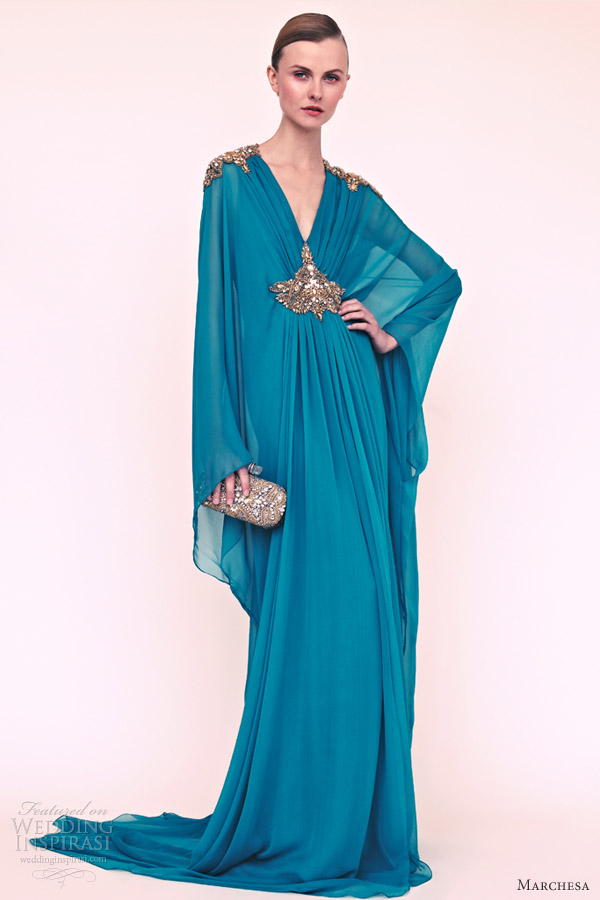 The last 2 gowns represent sophisticated modern brides. Emphasizing on puff sleeves, the one below; knee length dress with elbow length sleeves. And the bottom gown, a
heavily embellished sheath dress with shorter
sleeve.