B
eauty is the eyes of the Beholder...We loooove how beautiful these wedding dresses from Anthropologie bridal line, BHLDN (pronounced beholden)! They're all so uniquely done and pretty fabulous! Their collection features wedding gowns from various dress makers, whom designed exclusively for BHLDN. So many versions, some wtith floral details and some with butterflies and some so vintage-ish that reminds us of the old hollywood glam. Sigh,, so summery and classic indeed...Above, Quillaree pleated fantasy gown featuring bias-cut pleats in cotton silk; and dress below, Beth Bowley georgette gown with coral and smoke printed zinnia petals.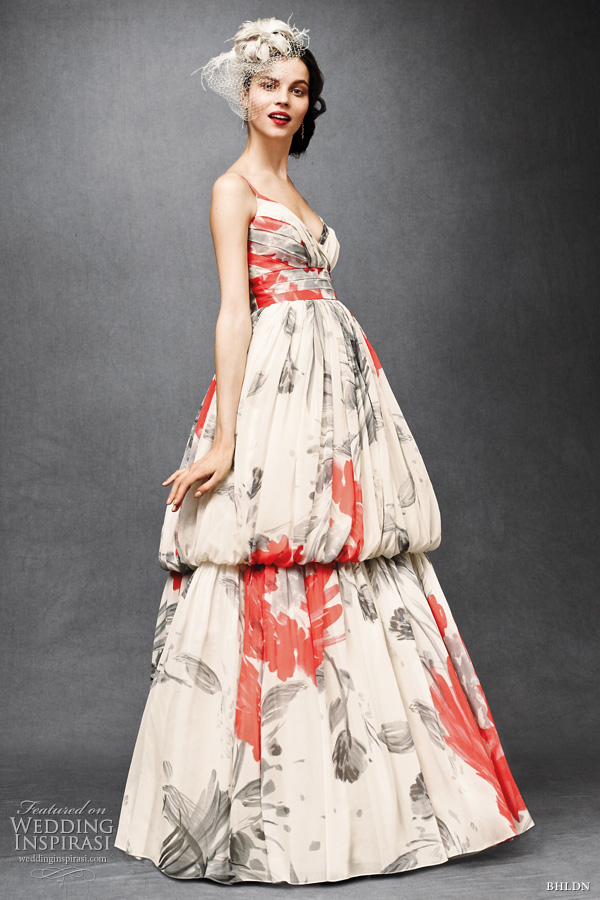 Tiered tulip gown with five floaty layers of organza, each tier trimmed in black pearl-edge stitches, opening at hem to reveal tulle flounce, contrasting silk sash, ruffles at sweetheart neckline.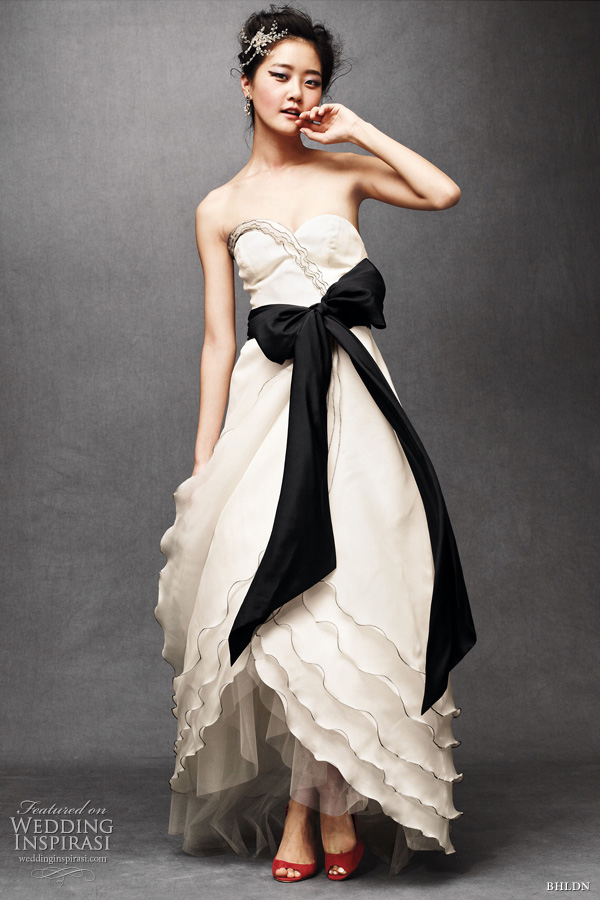 Bias cut wedding dress with raw-edged silk habotai panels against cascading georgette ribbons, designed the makers of Va et Vien.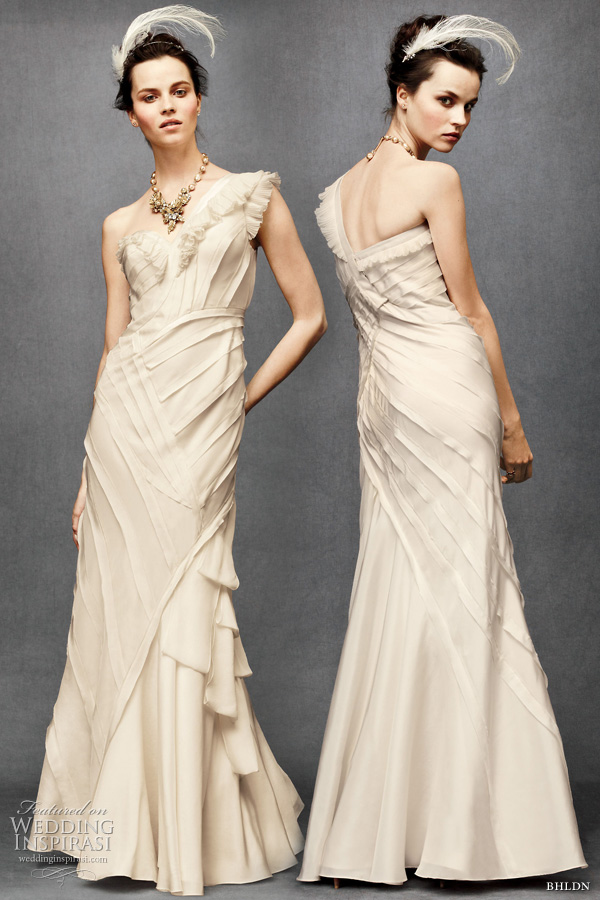 Ethereal Monarch wedding gown designed by There Is Only You & Me, in organza featuring hundreds of appliqued butterflies from shoulder to A-line hem, with pleated tulle lining peeking at the hem line and puddle train.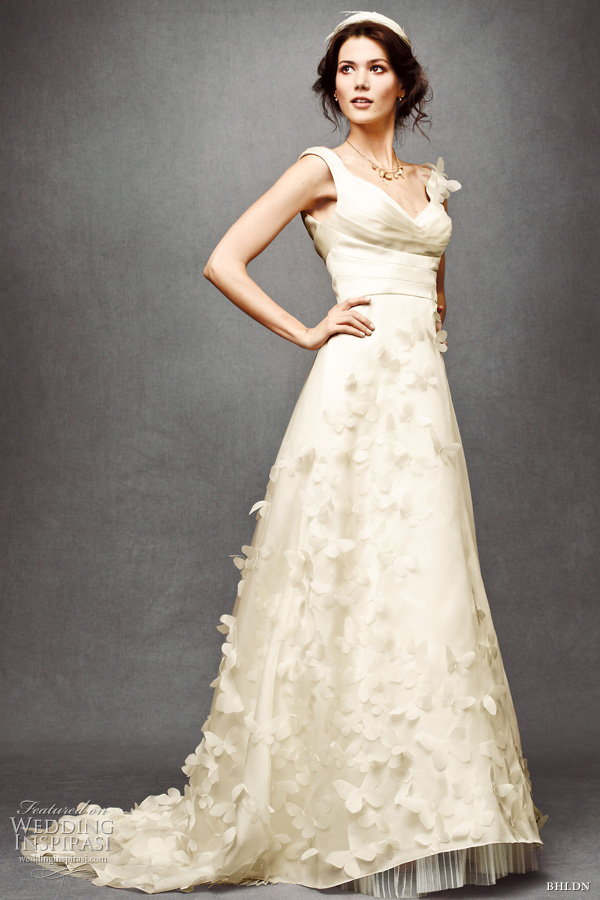 Tracy Reese retro style 3/4 sleeve tulle era dress with floral appliques dotted with Swarovski crystal. Ruched band of silk taffeta at the waist and a voluminous, below-the-knee scalloped skirt.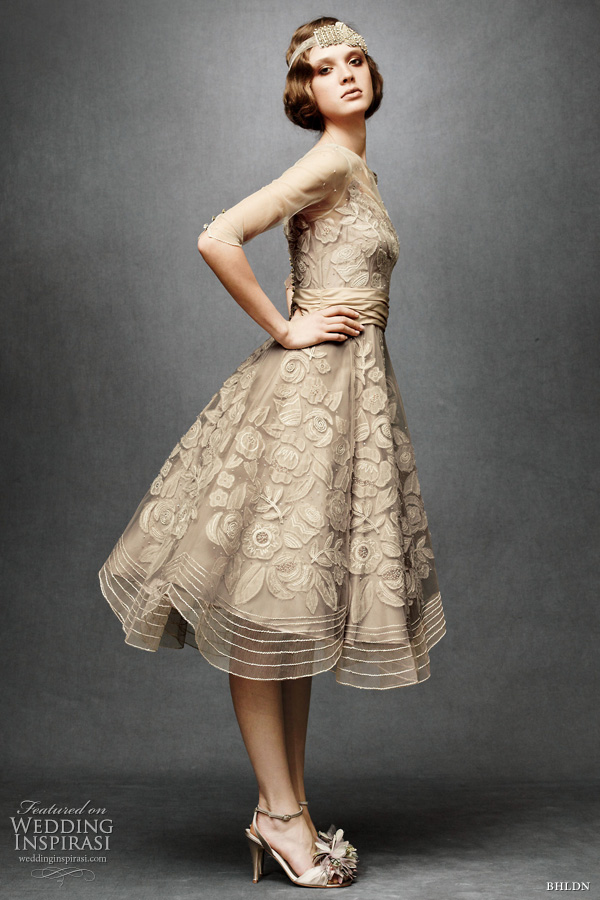 Hitherto vintage cream sweeping matte taffeta ball gown with scooped neckline and side pockets.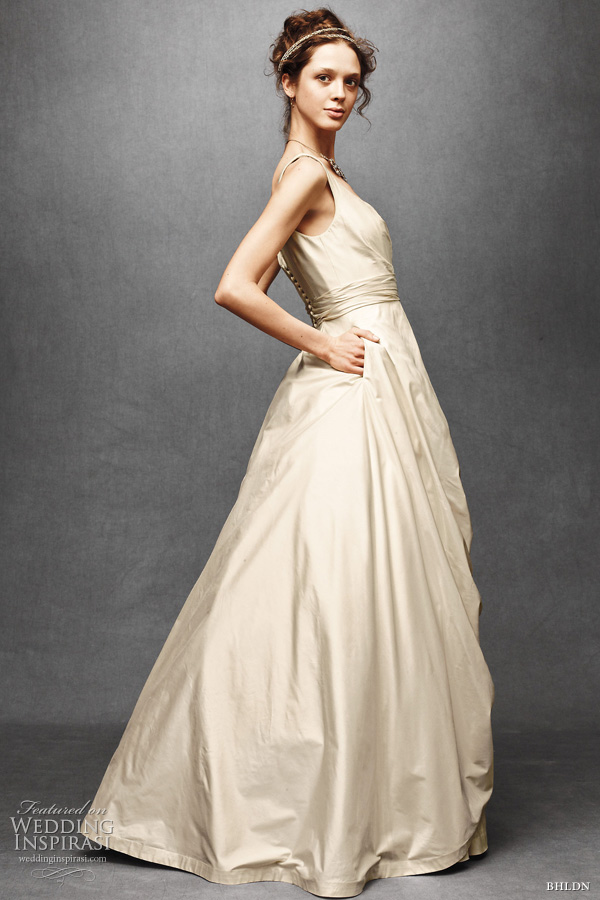 Catherine Deane cascading goddess gown with asymmetrical wisps of fluid chiffon beneath a structured bodice.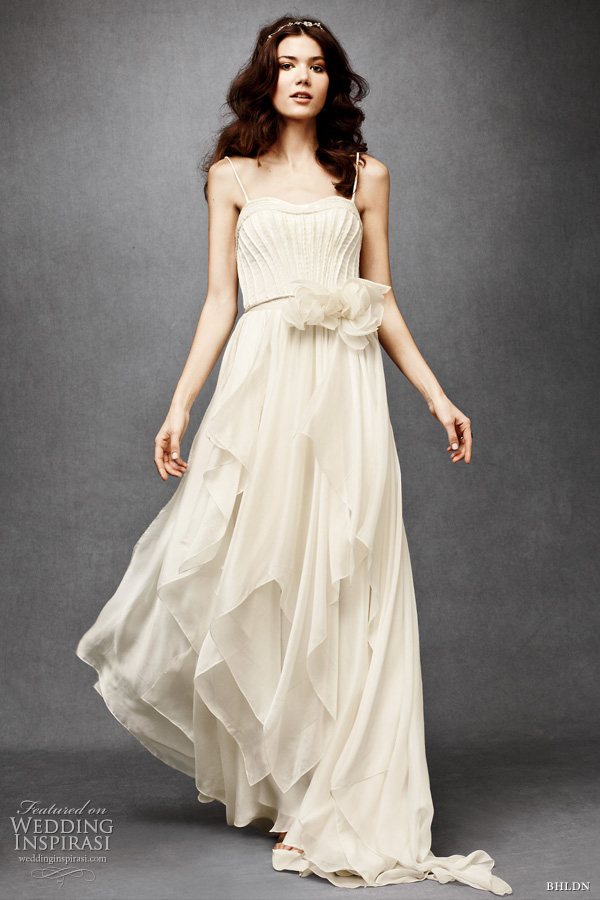 Trumpeted pavot gown with embroidered fronds and French-knotted buds. This vintage-inspired A-line dress is made of soft linen and draped with an overlay of sheer organdy,featuring a crossed v-neckline, a leather-piped belt and a dramatically flared hem.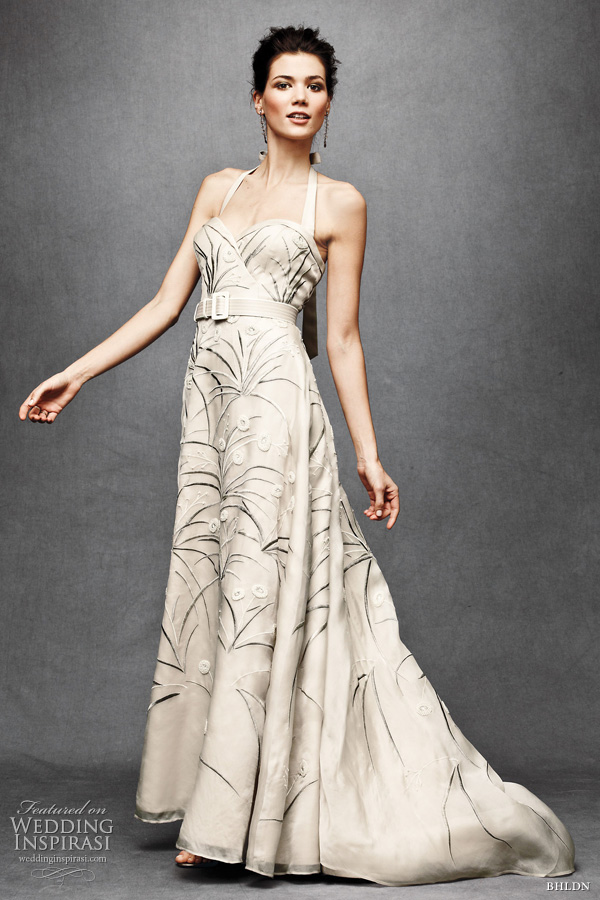 Fleur Wood burnised organza gown topped with bronze sequins at the sweetheart bodice and finished with five embroidered tiers of silk.
Eyelet medley sheathe dress in lightweight silk-linen with flower cutouts around the scalloped hem, pleated cross-front sash defining the waist.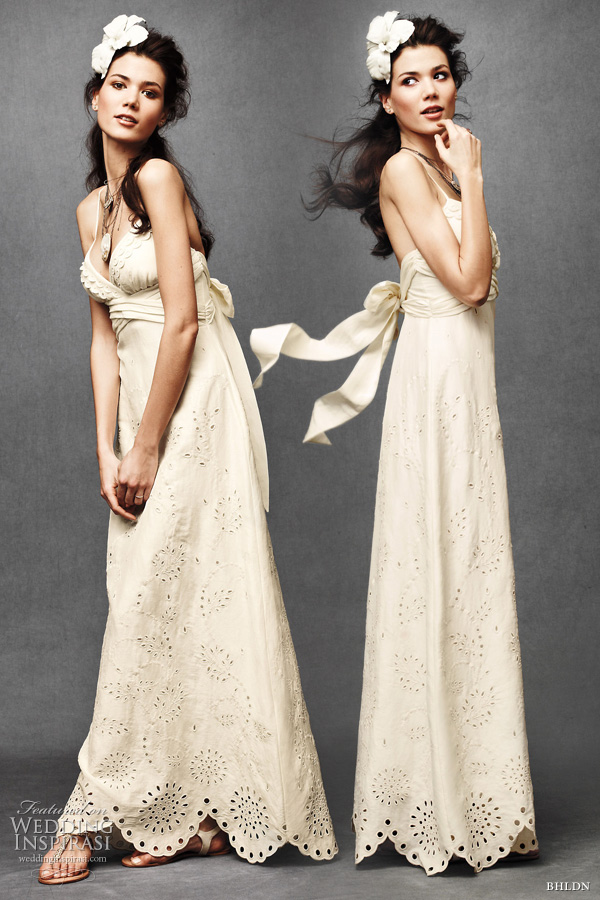 Bohemian style floor-length crocheted lace wedding dress dotted with globe buttons and encircled by grosgrain ribon at the waist designed by Tracy Reese.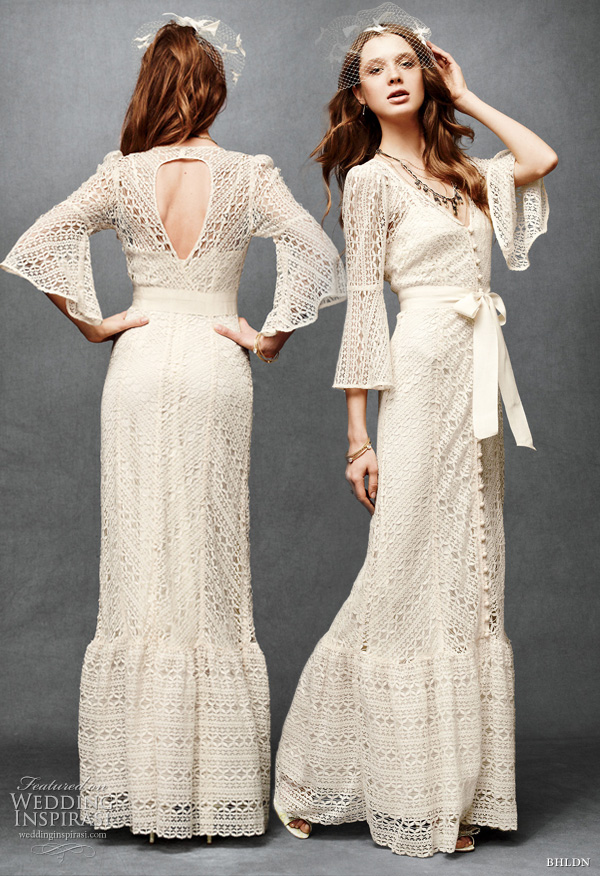 Lightly bonded sassy tea dress with pinwheel appliques, pleated bodice, layers of tulle at under skirt.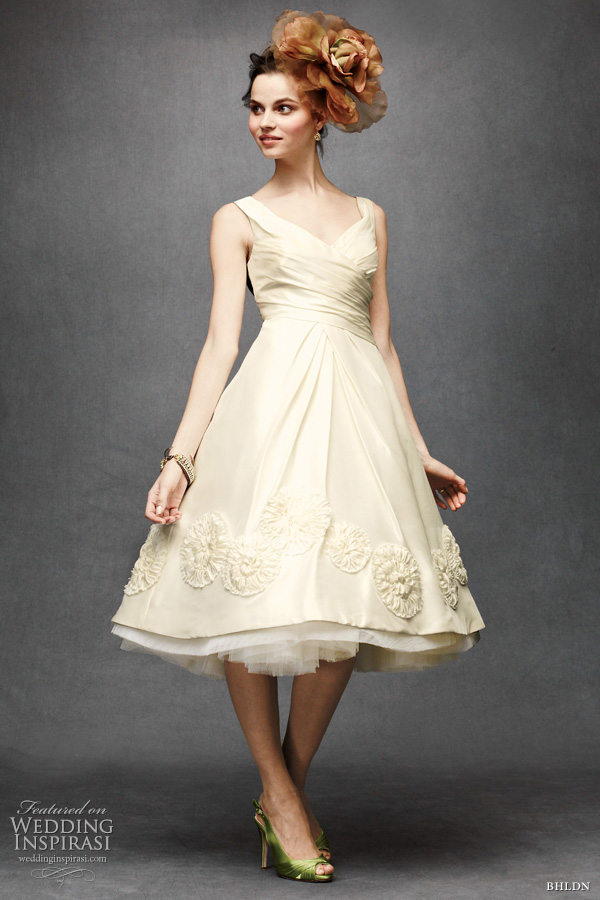 Quillaree floral artwork dress with crocheted lace bits at the bodicel; Hitherto fondant tea dress, a mid-calf silk-cotton gown piped with rows of tufted tulle, pin tucks, artfully pleated twill and rows of rickrack with interior corset and boned bodice.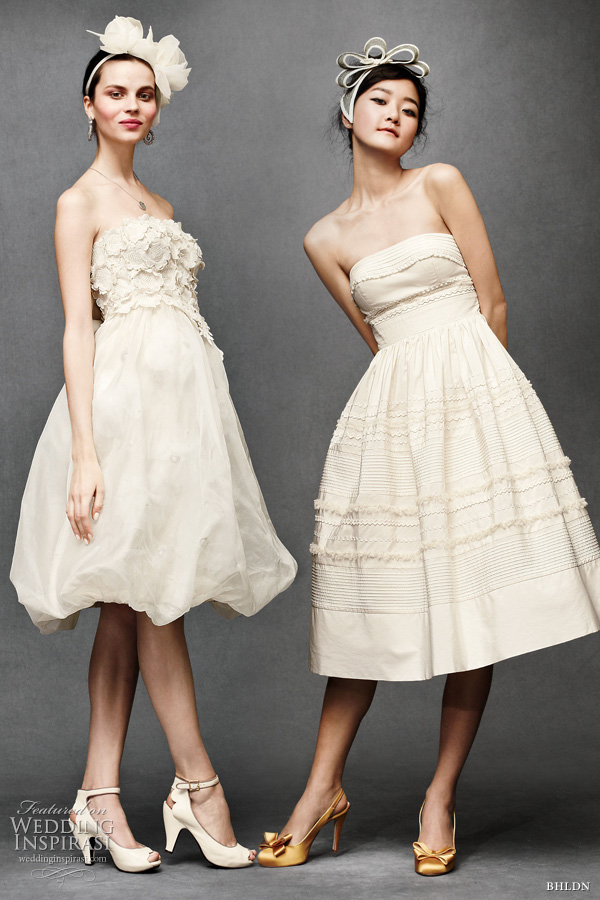 Moderated by Songket Affairs; Source: Wedding Inspirasi