H

ello loves! Yay the week is getting faster and time & tide awaits no man... Oh my..we approaching July aready! And we got more super super sassy wedding dresses by Karen Willis Holmes.all the way from OZland just for our Stunning Frocks this week! Karen, an
Australian bridal designer
, which emphasises
'Sophisticated & sassy'
on unique and chic kinda gowns for the modern women today. Her collection is inspired by fashion from the 18th century and the 1940's,
celebrating the spirit of today's modern bride both stylish and sophisticated. Surprisingly, whether you get your fashion fix with vintage, modern or classic, (or all of the above), there's no-doubt Karen's bridal collection has something here that will make you swoon-style all over.
First, we can't hardly wait to share this gorgeous gown which is called
Vanessa (pictures above and below). A vintage inspired gown, the dress featues a v-neck bodice and skirt in georgette, with ruffle sleeves, CF bodice detail which drapes to the back, folding into side panels. And lastly, perefectly finished with embellished shoulder details and embellished belt. Isn't she super sassy?
This gown is perfect for modern brides who loves a lil bit twist of vintage in her 'chic wedding theme'. More coming up--
Another fave of mine featues 'Alyssa' - a strapless gown complete with soft layers of organza ruffles, flowing effect from the bodice to the full skirt and into the train, styled with a fancy diamante belt. I love how romantic this dress is! So demure- and modernish at the same time!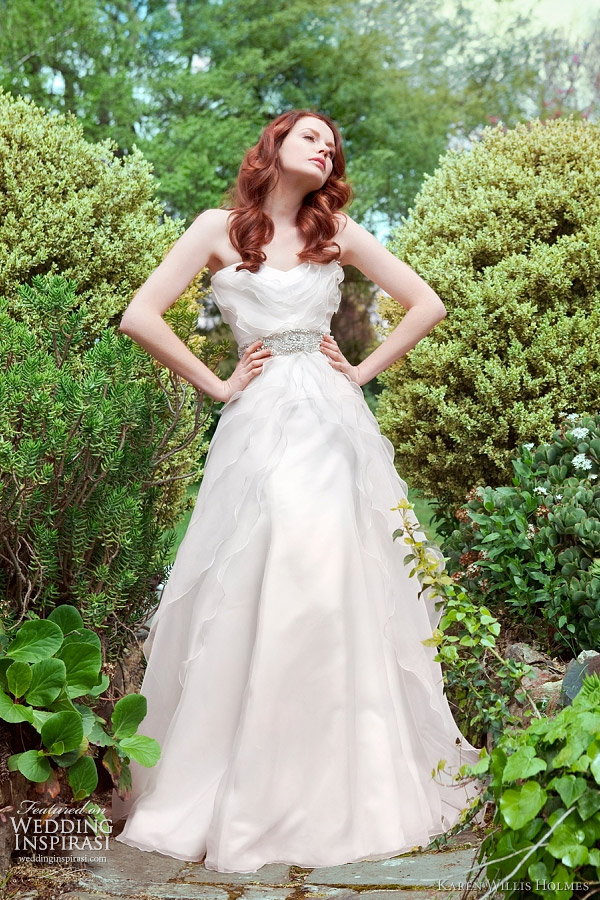 Another gorgeous Tiffany 1930′s inspired vintage silk satin bias wedding gown, which features a low back together with draped cowl neckline, front and back draped straps and satin belt. Ooohhh nice!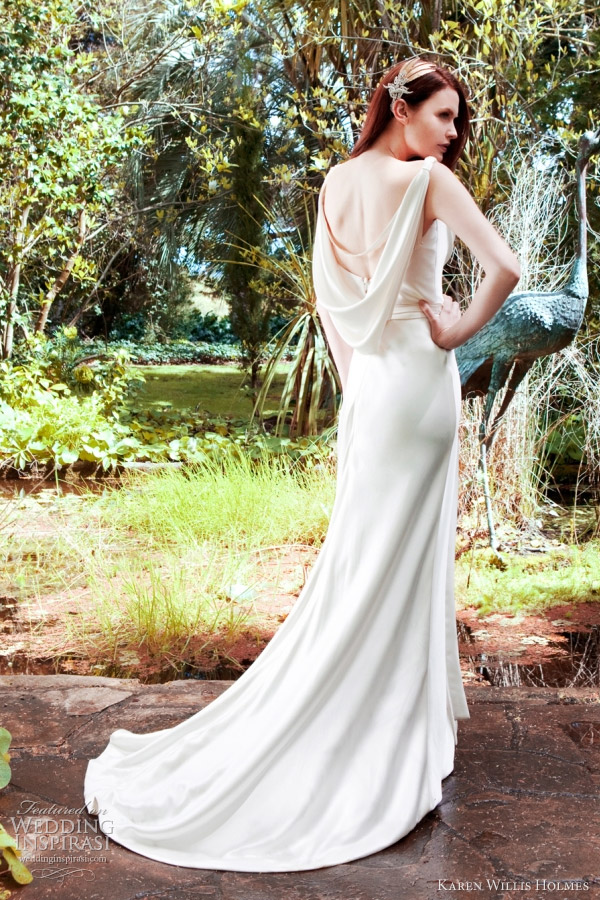 The gown named as 'Ashley', exquisitely designed for the romantics, a softly draped gown in form of silk Bella georgette, with front neck ties. This dress highly features skirt in soft slightly draped A-line flowing to train.The beautiful part? Styled with a 3D flower belt.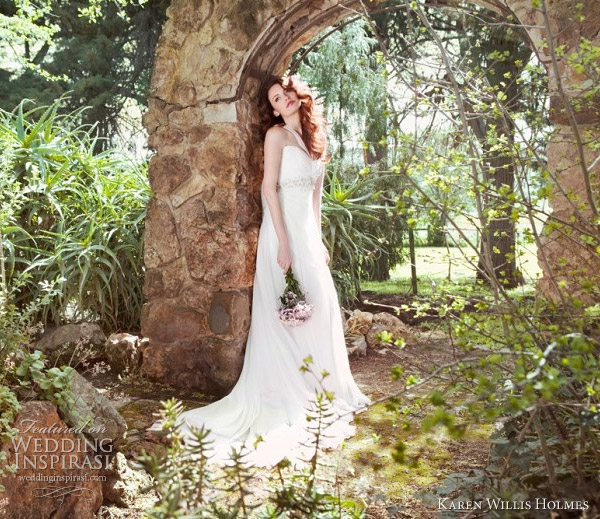 Another favorite (
mind you- all are!
) - an 'llegra' strapless mermaid wedding gown. A femininely inspired dress, with corded lace bodice & tulle circle skirt, with brilliantly finishing of grosgrain ribbon belt and sheer tulle at the neckline. Another dress, Sexy as ever, Felicity full multi-layered tulle wedding gown which features silver embroidery, diamantes and beaded bust line, with the perfecg skirt flowing into the train.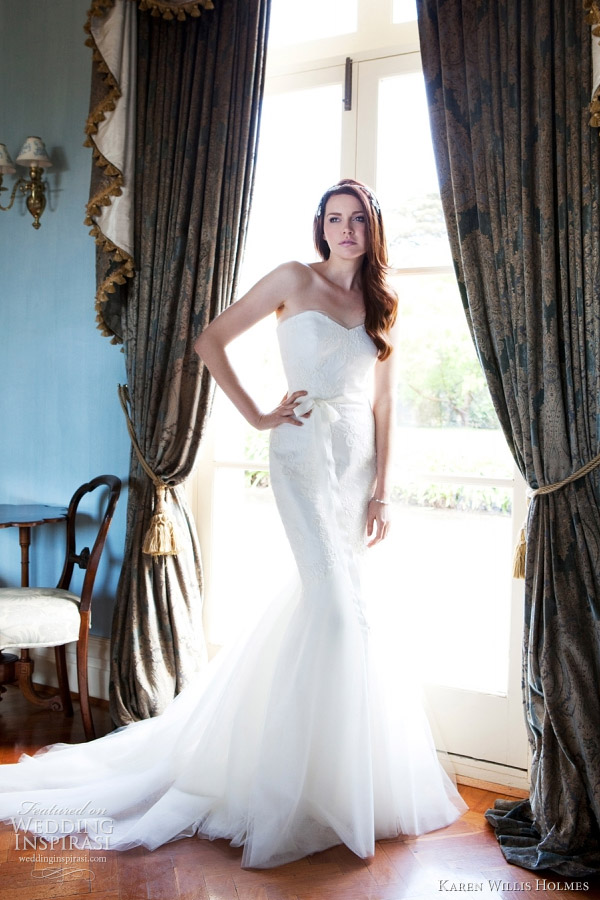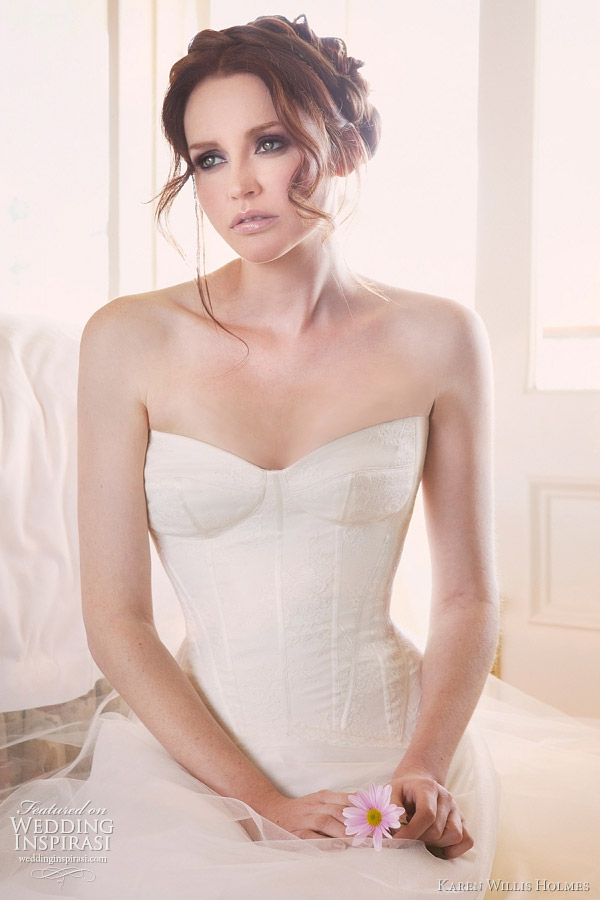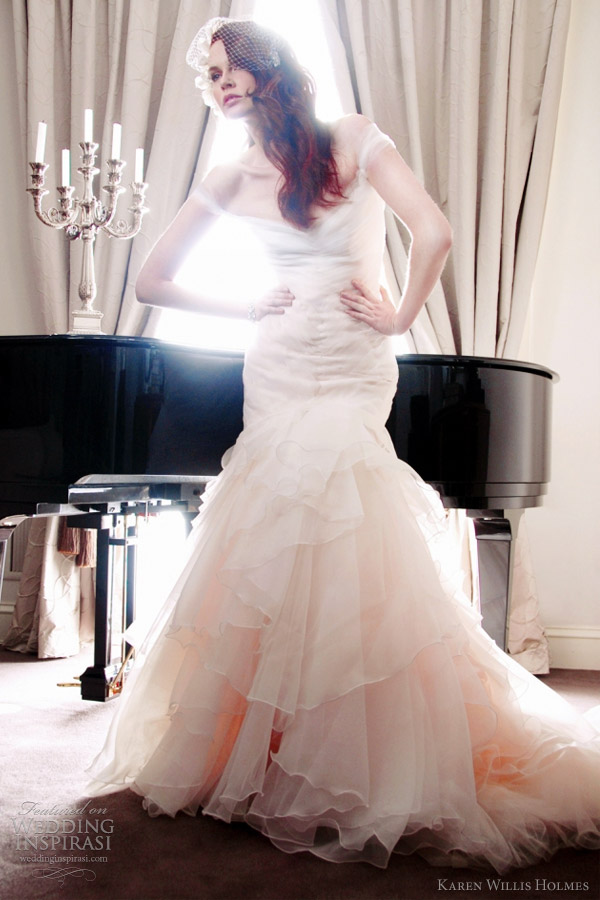 More Stunning gowns here from Karen Willis Holmes couture collection - her bridal designs, amongst the sophisticated designs we ever featured. A definitely eye turner! Gabriella (top) a couture wedding gown with bodice of woven organza detailed, featuring graded shading from soft white to cream at the hemsweetheart neckline, and the fishtail silhouette with a full flowy layered tiered circle skirt. Below, another beauty, Sophia strapless wasp-waisted, tulle bridal gown with full circle skirt featuring French lace applique detail on bodice and skirt, finished with a silver embroidered waist feature and detachable shoulder piece.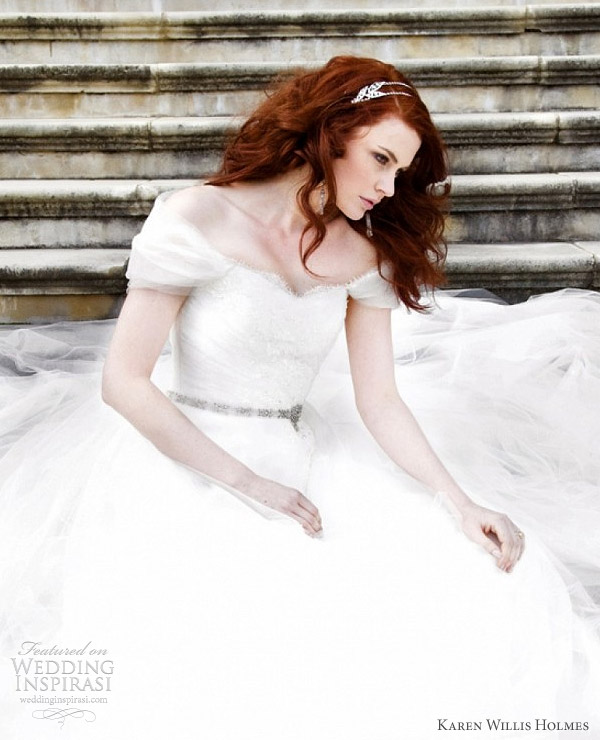 For hour-glass body brides, sexy 'Angelica' side draped silk georgette mermaid couture gown with ruched georgette bodice and 3D fabric flower detail on side hip.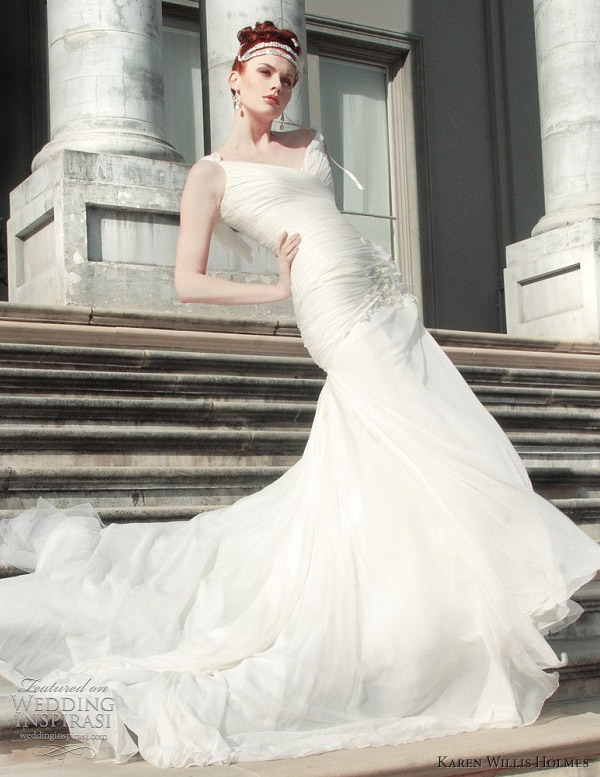 Also the Daphne couture gown; a 1940s inspired with the famous peplum-styled ruffled lace jacket with hand stitched lace applique detail on the shoulders, featuring fishtail skirt and bustier corset bodice in heavy twill . Worn with the Art Deco Belt.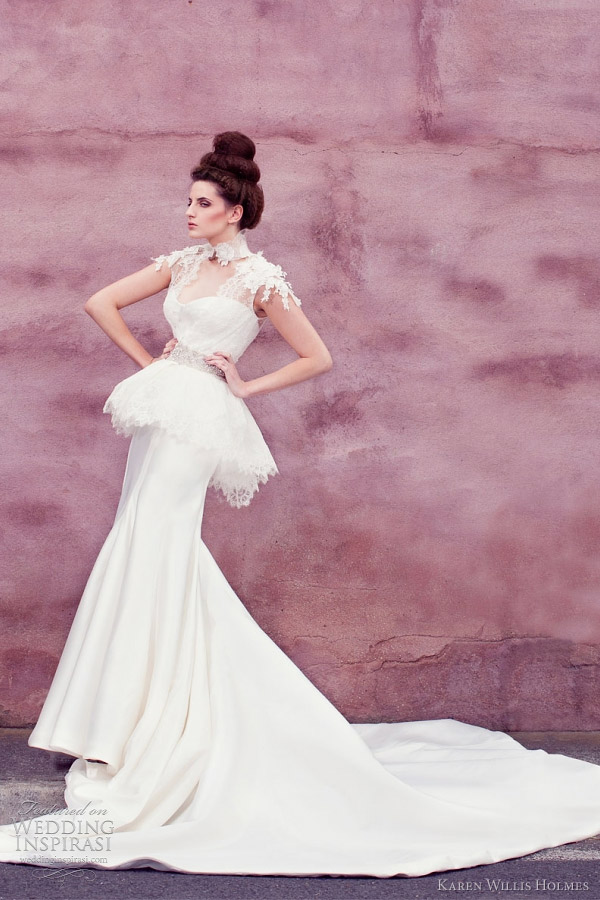 Moderated by Songket Affairs; Source Belle, Wedding Inspirasi